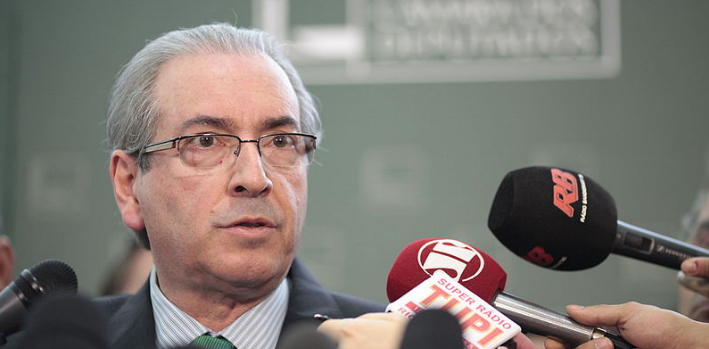 EspañolOn April 5, Brazil's highest court voted to remove the Lower House Speaker, Congressman Eduardo Cunha, for alleged obstruction of justice and corruption.
The decision, made by Supreme Court Justice Teori Zavascki on Thursday morning and confirmed by the other 10 members of the court in the evening, comes after a petition from Brazil's Attorney General Rodrigo Janot.
Janot claimed that the congressman had interfered with the Petrobras corruption case, which investigates members of Brazil's major parties, including Cunha's Brazilian Democratic Movement Party (PMDB).
Federal prosecutors also suspected Eduardo Cunha used his position to obstruct justice by accepting bribes from major businesses in exchange for manipulating decisions made in Congress.
"Cunha turned the Lower House into a business and transformed his position into a commodity," Zavascki wrote in his statement.
The ruling both suspends Cunha as president and as a congressman, but only the House floor can effectively oust him from his seat.
The opposition leader, for his part, told reporters on Thursday morning that he will fight back. "I will obviously appeal the decision," he said.
Lying to Congress
The Brazilian Congress' Ethics Committee is also investigating the legislator in a separate case for lying to legislators when he denied owning undeclared bank accounts abroad. The existence of those accounts was confirmed by Switzerland, who assisted Brazil officials in the probe.

Congressman Waldir Maranhao from the opposition Progressive Party (PP) will take over Cunha's position, but he is also being investigated for receiving bribes in the Petrobras scheme.
Cunha was second in line after Vice President Michel Temer to succeed President Dilma Rousseff should she step down or be impeached.
The embattled congressman was leading the charge against President Rousseff, having lobbied heavily for her impeachment.