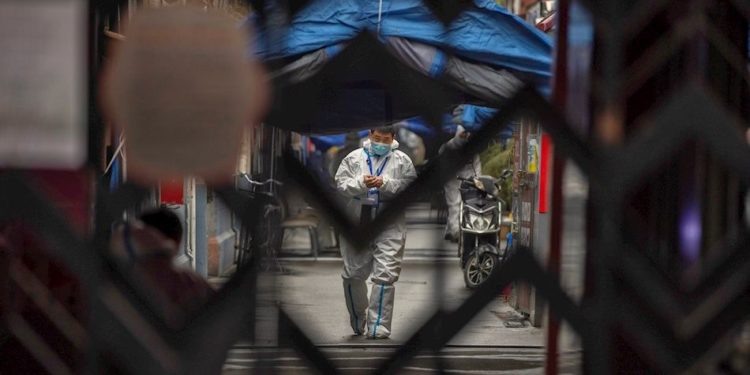 Spanish— A World Health Organization (WHO) expert commission's visit to China stirs up Xi Jinping's fears. After strict censorship and silence on the origins of the virus, he is now cracking down on the families of the dead to avoid any testimony proving his inefficiency.
"This shows that (Chinese authorities) are very nervous," said Zhang Hai, a former member of a WeChat group made up of about 100 relatives of coronavirus victims. The group was suddenly removed from the Chinese social network without any explanation.
In China, it has become common for social platforms to censor content related to the regime. As a result, many members of the group lost contact with each other, reported AFP.
Moreover, several relatives of the Wuhan victims have tried to file lawsuits seeking compensation and punishment from officials but have only met with silence. The courts refuse to hear their claims, adds Infobae.
Zhang Hai assures that if the WHO commission talks to these families, it could obtain important clues about the development of the virus, although he doubts it will become a reality. The regime is constantly vigilant.
Familiares de fallecidos por el covid-19 en Wuhan, China, afirman que las autoridades eliminaron su grupo de redes sociales y los presionan para guardar silencio mientras un equipo de la OMS investiga los orígenes de la pandemia -> https://t.co/7U1HNEz3zj pic.twitter.com/Ib5B82fDh7

— Revista Semana (@RevistaSemana) January 28, 2021
The WHO experts arrived in China on January 14 and had to observe a 14-day quarantine to begin the investigation, which is also heavily monitored by the regime.
Silence left and right
Xi Jinping's fear is not unfounded. The relatives' allegations are backed up by separate investigations. For example, in March 2020, researchers from the University of Southampton in England stated that the number of cases in China could have been reduced by 86% if the first measures, which were taken on January 20, had been implemented two to three weeks earlier.
The WHO also acknowledged that neither the organization nor China acted quickly enough when the first outbreaks were detected. Going deeper, it turns out that in January last year, the regime was already silencing critics of the levels of contagion.
Appealing to collective memory, China went through a similar case when severe acute respiratory syndrome (SARS) emerged in 2002. By March 2003, WHO issued a global alert that eventually spread to 26 countries, with 8098 confirmed cases and 774 deaths.
That virus was eradicated, but it seems that China did not learn from it. The reflection was made by the New York Times at the beginning of last year when COVID-19 was spreading around the world.
While the country improved its economy and healthcare system, it also tightened control of the internet, media, and civil society. In fact, police questioned eight people who posted information about COVID-19 on social media, claiming they had spread "rumors," the media outlet added.
Diverting attention
There is more in this list of censorship. The AFP article on the closure of social networking groups also reports that government officials allegedly visited a retired woman – whose daughter died from the virus – to silence her.
They asked her not to talk to the media and offered her money at the door of her house. "And they sang the same old song and gave me 5000 yuan ($775) in a 'condolence payment,'" she recounted under anonymity.
Just as the regime tries to deviate from the truth with money, they also do it with theories about the origin of the virus. Through the state media, they have said that COVID-19 was not born in China but arrived by frozen food from other countries of the world; then suggested that it came from a biological weapons laboratory in Maryland, United States.
Not content with this, they attacked the vaccine developed by Pfizer and BioNTech and advised against its use. They did so on the very day that Brazil announced that the Chinese vaccine was not as effective as its manufacturers professed.
"It's very embarrassing" for the government, Fang Shimin, who has dedicated himself to exposing Xi Jinping's lies, told the AP.