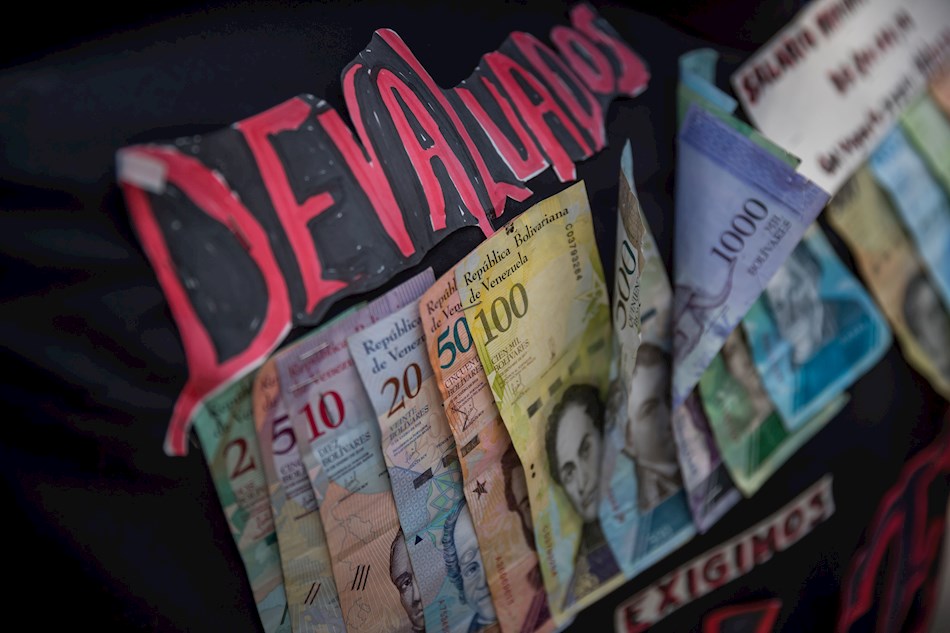 Spanish – Issue a new bill whose value will vanish in minutes. This is what they plan to do at the Miraflores Palace in an attempt to embellish the deteriorated value of the Bolivar.
Maduro's regime imported 71 tons of paper to print higher-denomination bills, a product of the cash shortage caused by hyperinflation, according to a report published by Bloomberg.
"The country has brought in about 71 tons of security paper this year from an Italian printer majority-owned by the private equity firm Bain Capital, according to some of the people and data reviewed by Bloomberg from Import Genius, which compiles customs records it obtains through private sources," the investigation reads.
The report adds that the Central Bank of Venezuela (BCV) is considering new 100,000 bolivar bills. It would be the highest denomination so far. Nevertheless, this bill will be worth only 23 cents.
Stratospheric inflation
Much has been said about the hyperinflation that exists in Venezuela, and that has been increasing during Maduro's administration. Until August of this year, the country registered inflation of 1,079.67% according to data published by the National Assembly (opposition to Maduro). The data contrasts with the last report of the BCV, according to which, prices had increased by 491.9% up to July, as reported by the EFE agency.
If there is any doubt as to who is right, you just have to walk the streets of Venezuela and ask a family if the minimum wage, calculated in one dollar, is enough to cover the food basket, which, according to the Center for Documentation and Social Analysis (CENDA), cost about 91,800,000 bolivars (approximately 230 USD) in August.
One of the consequences of hyperinflation is the shortage of banknotes that began more than four years ago with the shortage of some denominations. Today, it is rare for the average Venezuelan to have paper money in their pockets. Even with time, a black market of banknotes was generated, where they could be obtained by paying commissions between 15% and 30%.
Farewell to the Bolivar
The shortage of bills, the insignificant value of the bolivar, and hyperinflation have led Venezuelans to use the dollar as a pseudo-official currency for any transaction. Many use foreign platforms, such as PayPal, to make purchases within the country. Others even manage accounts abroad.
If it is strange to see a small store with dollar price signs, it is even stranger how other ways to get dollars develop: betting tables in popular areas where up to 15,000 USD is played in one night.
The economic distortions in two decades of socialist rule are difficult to process for an average population, that relies on its work to survive and that has to manage to obtain income, compared to the heads of the regime, who have amassed great fortunes abroad and many of which have come to light because of the illicit origin of the funds.