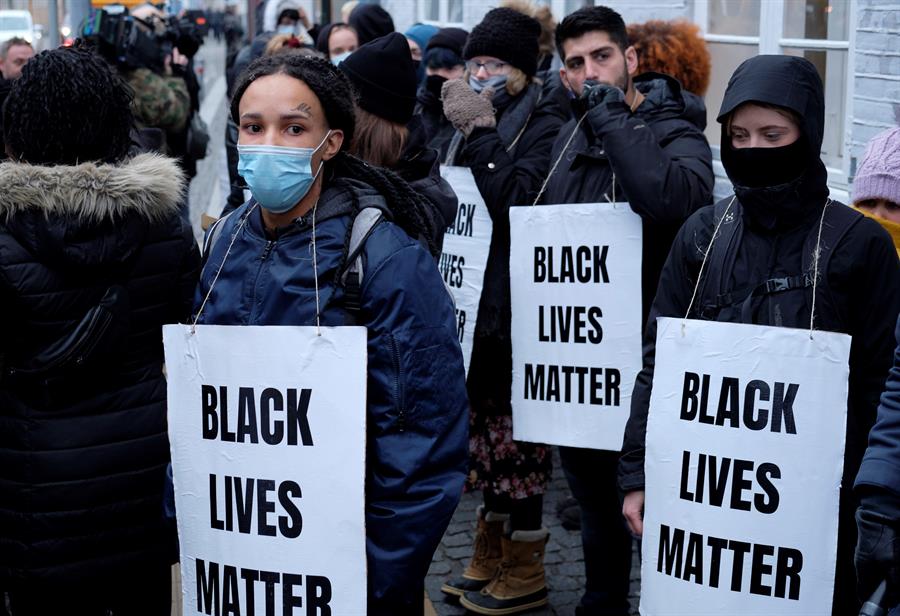 Spanish – Black Lives Matter is an organization that heralds itself as a bottom-up outfit. In practice, however, the organization has complaints among its ranks of hoarding "millions of unknown dollars" from above.
As its name suggests, Black Lives Matter Global Network (BLMGN) is international in its reach. However, local representatives complain that they have not enjoyed the fundraising capacity of the global network.
In June 2020 alone, BLMGN announced that it was launching a 6.5 million USD fund to support its local chapters after receiving a large number of donations following the death of George Floyd on May 25, 2020.
I reported in June that BLM's national arm spent millions on consulting, travel and staff while giving little to its local chapters.

Today, 10 local BLM chapters accused BLM's national arm of giving "little to no financial support" to its local chaptershttps://t.co/LozP4B37KZ

— Andrew Kerr (@AndrewKerrNC) November 30, 2020
However, ten local BLM chapters issued a statement denouncing that "most chapters have received little or no financial support from the BLMGN since its launch in 2013."
"For years, there has been an inquiry regarding the financial operations of BLMGN and no acceptable process of either public or internal transparency about the unknown millions of dollars donated to BLMGN, which has certainly increased during this time of pandemic and rebellion," the statement said.
The expenses of Black Lives Matter
Local chapters, including those in Washington, D.C., Chicago, and Philadelphia, said in the statement that BLMGN had not provided financial transparency around the "unknown millions of dollars" it has raised since its founding in 2013.
In June 2020, The Daily Caller News Foundation reported that the Black Lives Matter Global Network spent 4.5 million USD on consultants, travel, and compensation for its staff from July 2017 to June 2019. In the same period, it provided only 328,000 USD to outside groups, such as the local self-governing BLM chapters that do the movement's work.
For years, Black Lives Matter Global Network (@Blklivesmatter) has undermined the work & integrity of local chapters — including BLM DC.

Today we went public. Read our statement here: https://t.co/VTbu2aZzds #BlackLivesMatter #BLM10

— Black Lives Matter DC (@DMVBlackLives) November 30, 2020
In response, former BLM Global Network director Kailee Scales said the figures in her fiscal sponsor's financial statements "do not reflect, for example, the in-kind support for chapters and fundraising directed to chapters and programmatic assistance to chapters."
"That work was carried out by employees and consultants to BLM," said Scales.
But local BLM chapters said in their statement that only "selected chapters" were invited to apply for that fund, which BLM Global Network said would provide affiliated chapters with grants of up to 500,000 USD
BLM's association with socialism
The statement also alleges that BLM Global Network co-founder and sole board member Patrisse Khan-Cullors recently "became executive director against the will of most chapters and without their knowledge."
It is not an insignificant fact that Cullors declares herself a "trained Marxist," and among the BLM's postulates is the implementation of "racial socialism," that is, they are promoters of the redistribution of wealth, but they don't distribute it among the most disadvantaged, but only among the hierarchs, as is usually the case when socialism comes to power.
Many good intentioned Americans are showing support for #BlackLIvesMatter—but do they really know the radical goals of the official organization?

Meet the self-proclaimed Marxist founders of BLM—and their extreme agenda for America. pic.twitter.com/7MyU6M0Mol

— Heritage Foundation (@Heritage) June 30, 2020
Local organizations also accuse BLM of being unable to participate in the movement's democratic decision-making process. The organization's hierarchy dissociates itself from these organizations, as detailed by Khan-Cullors in 2018, which states that they are responsible for carrying out the movement's mission.
"We have impacted the world; the Black Lives Matter Global Network, a crew of mostly young Black women and femmes challenging the culture to live up to our resilience. We evolved from a phrase, to hashtag, to a global network," said Khan-Cullors. "This work is carried out by our chapters, whose leadership spans across the country and the globe."
Another BLM co-founder, Opal Tometi, told The New Yorker in early June that affiliated BLM chapters "are the ones who lead" the movement."
"It has always been somewhat decentralized," Tometi said. "We have tried various structures, but we have always said the power goes on in the local chapter because they know what is going on, and they are the ones familiar with the terrain."
Tometi's (one of the three BLM founders) commitment to international socialism is evidenced by the fact that she honored Nicolás Maduro in Harlem and traveled personally to Venezuela to participate as an election observer in the 2015 parliamentary elections, where she called the opposition "counter-revolutionary."
#HaceMinutos: Pdte Maduro participó en la Cumbre de Líderes Afrodescendientes en Harlem, comunidad de Nueva York pic.twitter.com/kzSg173ywY

— Misión Verdad (@Mision_Verdad) September 29, 2015
Finally, local BLM chapters complain that much of the fundraising was done by asking supporters of their movement to "donate directly to the chapters, which represent the front line of Black Lives Matter."
However, those funds have not reached those who put their bodies on the streets but those who get rich by lobbying internationally.
The BLM Hypocrisy
The situation is reminiscent of that described in George Orwell's Animal Farm, where the author exemplifies socialism as applied to farm animals that rebel against exploitative humans and end up acting like them.
Such is the history of socialism in all its variants, where Hugo Chávez leaves his daughter María Gabriela an inheritance of four billion dollars and Fidel Castro's net worth was nine billion dollars at the end of his days while leaving a people impoverished.
Today, Black Lives Matter, which proposes to redistribute wealth between White and Black people, has not even been able to distribute the money among its own people.