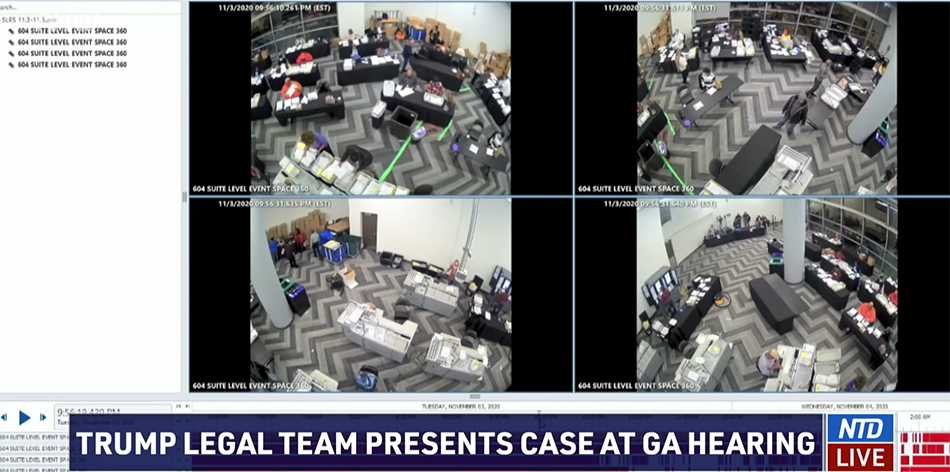 Spanish – The legal team of U.S. President Donald Trump presented at a hearing of the Georgia State Legislature several surveillance videos showing alleged irregularities. Georgia is one of the states where the result of the November 3 presidential election continues to be under legal dispute, despite being certified.
The videos were presented Thursday at a hearing held in front of Georgia state senators. Trump's team sees this material as clear evidence of fraud. The scene occurred in Fulton County, Georgia, according to legal experts.
The series of images show poll workers expelling poll watchers on the night of November 3. However, after everyone had left the room, a peculiarity became apparent: four people took out boxes of alleged ballots to continue counting for several hours.
WATCH: Video footage from Georgia shows suitcases filled with ballots pulled from under a table AFTER supervisors told poll workers to leave room and 4 people stayed behind to keep counting votes pic.twitter.com/AcbTI1pxn4

— Team Trump (Text TRUMP to 88022) (@TeamTrump) December 3, 2020
President Donald Trump reacted quickly. As usual, he did so through his Twitter account. "People in Georgia got caught cold bringing in massive numbers of ballots and putting them in "voting" machines."
People in Georgia got caught cold bringing in massive numbers of ballots and putting them in "voting" machines. Great job @BrianKempGA!

— Donald J. Trump (@realDonaldTrump) December 4, 2020
Evidence from the Trump Team
At the hearing held this Thursday, an attorney who volunteered to take the case delved into this issue. She explained that the team received video footage from the State Farm Arena's vote tabulation center in Fulton County, Georgia.
The lawyer informed during her speech that the Republican Party election observers did not have access to the counting process while they were at the voting center.
However, as explained by The Epoch Times, the lawyer identified as Jackie Pick, narrated what she described as unusual. The irregularity would have occurred around 10:00 pm local time. A blonde woman with braids told workers to stop counting and asked everyone to go home.
"Everyone leaves, including Republican observers and the press, but four people stay behind and continue counting and tabulating well into the night," Pick said.
They counted without being observed until about 1:00 am, according to the attorney.
A Fulton County spokesman consulted by The Epoch Times did not question the authenticity of the video. He said that "any credible report of such activity will be investigated and dealt with as provided by Georgia law."