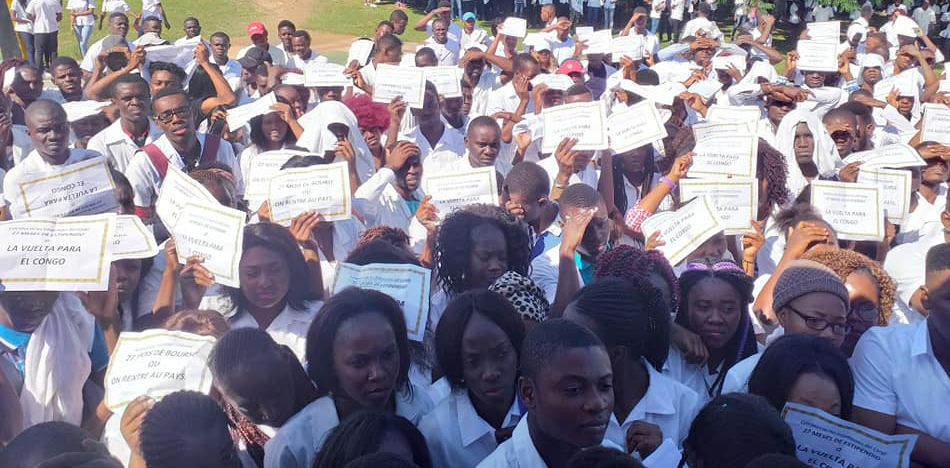 "They treat us like animals," the students shout. A firearm aimed at a student and another shot down on the floor by the police, amidst the cries of their comrades, is the image that summarizes the treatment of African scholarship students in Cuba.
By means of an official note, the Ministry of Public Health of Cuba (MINSAP) announced that the intervention by law enforcement agencies was necessary because the protests had taken on a "violent nature."
According to the Minsap, "such indiscipline will not be allowed." It added that "the pertinent measures will be adopted in accordance with the legislation in force in our country."
In addition to the slavery of Cuban doctors abroad, which was denounced by the president of Brazil, Jair Bolsonaro, when he demanded better conditions for Cuban doctors, it has now been revealed that the Cuban regime receives payments from foreign governments, but does not deliver them to the medical students for whom the payments are intended.
Although the Cuban medical program is the number one revenue-generator for the Cuban dictatorship, even more than tourism, the payments made by the Congolese government are not reaching their students.
For 27 months, 2,000 Congolese have not received their stipend, the scholarship money they should be receiving each month. Their protests regarding the matter have been met by a brutal crackdown by Cuban authorities.
Around 100 police officers – as malnourished as the demonstrators, so much so that one of them could be knocked over by one of the students – had an overarching objective: prevent the protests from spreading and being shared by the media.
In addition, the regime ordered out special forces to repress students who, until then, were demonstrating peacefully to demand better living conditions.
Most of the protesters were in white lab coats. The regime's special anti-riot forces known as "black berets" were dispatched to handle the incident.
Policía amenaza con pistola a estudiante en #Cuba en medio del despliegue de Tropas Especiales por la huelga de extranjeros: https://t.co/zrQs2VTqtt pic.twitter.com/bLm2CQ8mXS

— CiberCuba (@CiberCuba) April 9, 2019
According to the Congolese press and reports from the students, several were transferred to the emergency room with serious injuries.
However, neither the official report nor the local press have admitted excesses on the part of the regime, nor reported on the number injured due to police repression.
An anonymous witness, who managed to escape and asked that his name not be revealed, said that "suddenly a lot of policemen arrived and began to strike. Some students were arrested and also people who stayed there and watched."
In a letter addressed to the president of the Republic of the Congo, medical students indicate that the money for their stipend comes from the taxes paid by their families.
However, for 27 months they have not received a penny. This is typical in a centralized economy, under a socialist regime.
Therefore, students have no way to generate income. They depend only on what they are given.
This aggravates their complaints about their living conditions, food, and housing.
The letter alleges that of all the nationalities present in Cuba in the fellowship programs, their living conditions are the worst.
(Nuevo video) Enfrentamiento de los estudiantes del Congo con la Policía cubana Visto desde el ángulo de los estudiantes, miren el vídeo (filmado por los mismos estudiantes)La policía cubana, el ejército cubano y sus perros de la policía entraron a nuestra residencia y comenzaron a dañar y detener a estudiantes congoleños (incluso algunos sudafricanos también fueron arrestados) porque tomaron una postura pacífica al decidir no ir a la escuela durante una semana, desde el Congo. El gobierno no los ha pagado durante 27 meses.

Posted by Canal Pantalla Cubana HD on Tuesday, April 9, 2019
In addition to doctors' program, whereby the regime receives more than 75% of the salaries of Cuban doctors, the scheme offers scholarships to students from third world countries that are financed in part or in full by those states.
The Congolese students are protesting because they did not receive the monthly payments they are supposed to get, and live in precarious conditions.
And the situation is not limited merely to the Congolese case. In 2010, students from Pakistan were deported from Cuba for having protested in the province of Matanzas, after being violently repressed.
"We will not sit back and watch in the face of violence," said a Cuban official to medical students at the time.
The Pakistani students were not allowed to finish their studies and did not get their medical diploma.
Given this, the Congolese students have taken up a slogan: "I will not return without my diploma," or "Je ne rentre pas sans mon diplome" in French
The students administer a Facebook page where they report day by day on their peaceful resistance, and their demands for the payment of their 27 months of living stipends, and the improvement of living conditions, and graduation processes.
Since 1964 there has been a pact between the Congo and Cuba. Che Guevara sought to foment Communist revolution there, leading a guerrilla campaign which failed miserably.
Congolese students are fed up with a regime that is profiting at their expense, while they live in abysmal conditions.