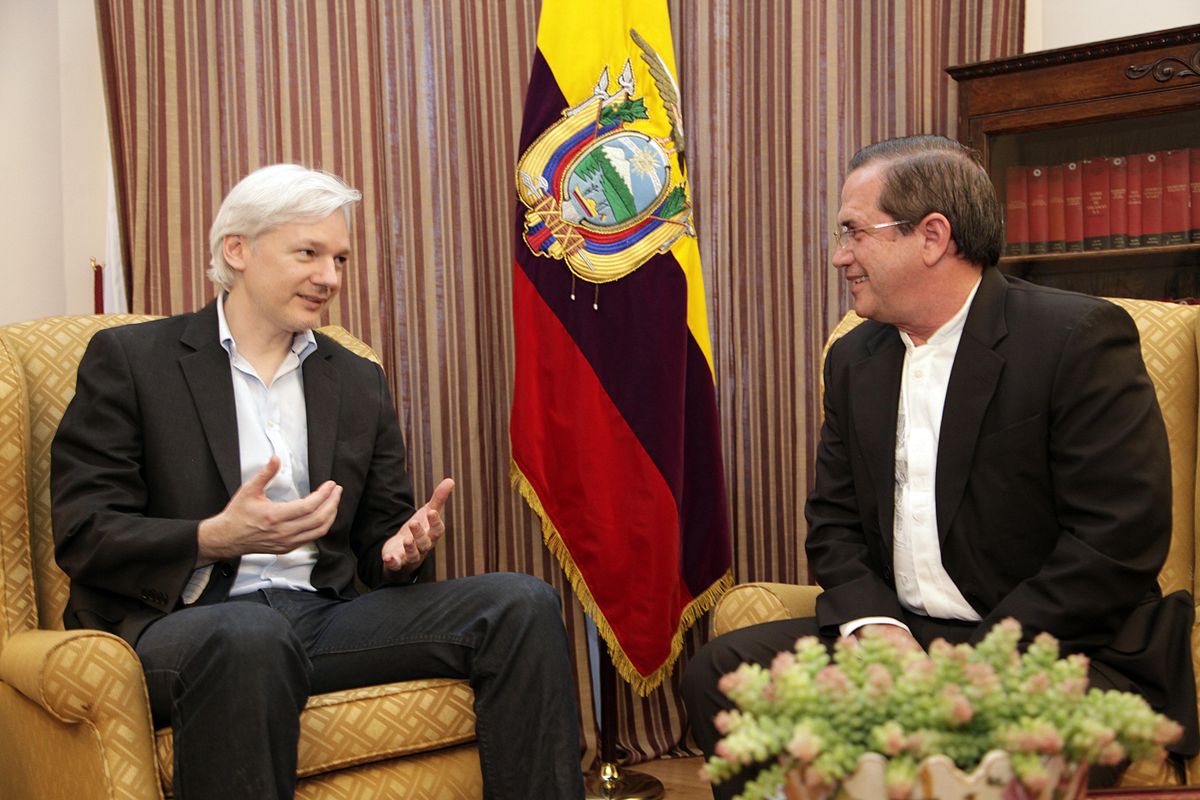 WikiLeaks founder Julian Assange was arrested today at the Ecuadorian embassy in London, in dramatic fashion. Handcuffed, and clutching a copy of Gorde Vidal's History of the National Security State, Assange shouted, "This is unlawful, I am not leaving," as he was dragged from the embassy. He is facing a charge of bail violation in the United Kingdom, and is wanted on charges of computer intrusion in the United States that carry a sentence of five years in prison.
Assange was long rumored to have worn out his welcome in the Ecuadorian embassy, where he has been holed up for seven years, and his behavior was described as "discourteous and aggressive" by Ecuador's president Lenin Moreno. He was initially extended asylum at the invitation of Ecuador's leftist former president Rafael Correa, who is himself wanted by Ecuadorian justice on kidnapping charges stemming from an incident involving an Ecuadorian lawmaker who was illegally kidnapped in Colombia, and then brought back to Ecuador.
Current President Lenin Moreno has surprised many by taking a very centrist approach, starkly in contrast with the positions of his predecessor Correa. Moreno served under Correa as vice president, and won a very closely contested election against Guillermo Lasso in 2017, marred by allegations of electoral fraud. Yet, Moreno has charted a new course for Ecuador, and strongly rejected the foreign policy of his predecessor, which included close relationships with Venezuela's Hugo Chavez and Nicolas Maduro, Bolivia's Evo Morales, and Cuba's Raul Castro.
Moreno, and other Ecuadorian officials, frequently cited two issues with respect to the decision to revoke Assange's asylum status: his increasingly unwelcome and bizarre behavior within the premises of the embassy, and his refusal to heed a request from the Ecuadorian government that he not interfere in the affairs of other nations.
Assange was unable to contain himself, and frequently drew the ire of Ecuadorian authorities by injecting himself into geopolitical disputes at full throttle; for example, by loudly championing the cause of Catalan independence, when it was odds with the official Ecuadorian position.
As Moreno put it: "the patience of Ecuador has reached its limit on the behavior of Mr. Assange."
Compartimos la intervención del Canciller @ValenciaJoseEc en la rueda de prensa ofrecida esta mañana sobre el retiro del asilo diplomático al señor Julian Assange. #EcuadorSoberano. pic.twitter.com/MCp10zkRFE

— Cancillería Ecuador (@CancilleriaEc) April 11, 2019
Revealing further evidence of the serious rift between the Moreno and Correa factions, the Ecuadorian government also accused Assange of being part of a plot to destabilize Ecuador along with former Foreign Minister Ricardo Patino, a key figure from Correa's administrations, who still maintains a great deal of influence within Correa's Alianza Pais party, of which Moreno was once a member.
The current Moreno-Correa rift has split Ecuador's left and center-left in two, with the bulk of the unicameral National Assembly breaking with Correa to back Moreno.
Embattled UK Prime Minister Teresa May defended Assange's arrest, claiming it shows that no one is above the law, while President Moreno claimed that a condition of his arrest involved his assurance from UK authorities that Assange would face neither the death penalty nor torture.
As it stands now, Assange will be sentenced next month in the Southwark Crown Court, on the bail violations. Ultimately, the United States is seeking to have him extradited there, on charges that include a specific instance of collusion with Chelsea Manning to hack into US military computers to steal top secret documents.
Manning was able to download hundreds of thousands of classified documents pertaining to the wars in Iraq, Afghanistan, and Guantanamo Bay. She was given a 35 year sentence, but was given clemency by Obama, after seven years in a military prison. Obama's decision infuriated many on the right, who felt that Manning should have served her sentence in its entirety, but WikiLeaks also has enjoyed a strange relationship with the Republican Party.
The organization played a critical role in releasing hacked emails from the Democratic National Committee that were damaging to Hillary Clinton, and Trump frequently congratulated and cheered the group while on the campaign trail. When Assange was queried as to why he never released information on the Trump campaign, he responded by stating that WikiLeaks had no such information on Trump, but would publish it if it had it.
Now, the media is on pins and needles waiting to see what Trump will have to say about all this, as the world waits to see what will become of the Assange extradition request.