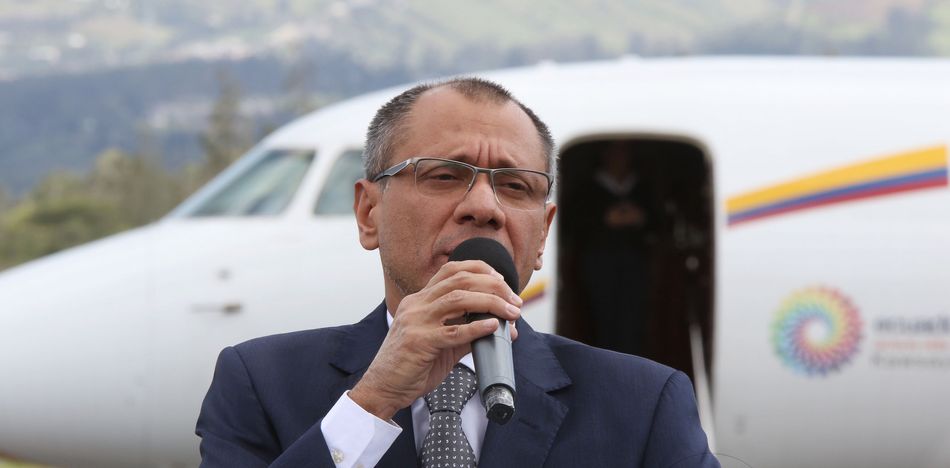 EspañolVice President of Ecuador Jorge Glas has warned that if payments are found from Odebrecht to his uncle Ricardo Rivera, he will sue him "for defamation."
"There is no doubt that nobody close to me should have ever looked to Odebrecht, not even to sell cookies to charity," Glas said. "I condemn these activities, as they have evidently contributed to the bribery theory, which is nothing short of conspiracy."
Glas said that prosecutors and the Odebrecht informer made a pact targeting him.
"When the Prosecutor Baca was still speaking to me and he came back from Brazil, he called me and told me, 'Jorge I have a statement from Santos where he says that you are an honest man, but Odebrecht asked me for something in return in order to avoid being tried in Ecuador.'"
Both Glas and Rivera have been sentenced to six years in prison for links to the Odebrecht case.
According to the National Court of Justice in Ecuador, Glas benefited from Odebrecht bribes receiving US $13.5 million in exchange for five construction projects between 2012 and 2016.
Despite the ruling, both Glas and Rivera continue to deny having been involved in acts of corruption, insisting that the evidence presented by prosecutors is insufficient and further proof of their innocence.
"They will have to appeal to a new tribunal within the National Court of Justice," Glas said.
Glas also said that once this process is over, he will appeal to international authorities. "I am going to seek that (this process) be accelerated as soon as possible to go to the international courts — not the Inter-American Commission, the Inter-American Court," he said.
The accuser, César Montúfar, acknowledged the work done by the Prosecutor's Office in the case and called the corruption investigation "an historical achievement and a positive sign."
"Evidently, the (full extent of the) corruption plot is not reflected in this trial, which is small and for a mere misdemeanor that has a penalty of six years," he said. "But this is only the beginning."
Montúfar acknowledged that despite the proximity between the prosecutor (Carlos Baca) and former President Rafael Corea, Baca "did what he had to do."
"The prosecutors' work in preparing the evidence was done very well, demonstrating a level of professionalism in their institution that is very important for the country," he said. "If our institutions work properly, then we can dig out of this pit of corruption that we are stuck in."
Montúfar said Glas's role in this corruption scheme was "to make the strategic decisions that made it possible to facilitate the return of Odebrecht to Ecuador," something he achieved through his uncle Ricardo Rivera.
"Glas gave an umbrella of political protection to the Brazilian construction company," he said.
The state Attorney General's office said the next step is to conclude the investigations that remain open. He also said at least 20 additional cases could be opened.
"They will be opened in the next few days, because it's a technical issue; that is, it's contingent on openness, research, the evidence found … We are going to open the corresponding investigations."