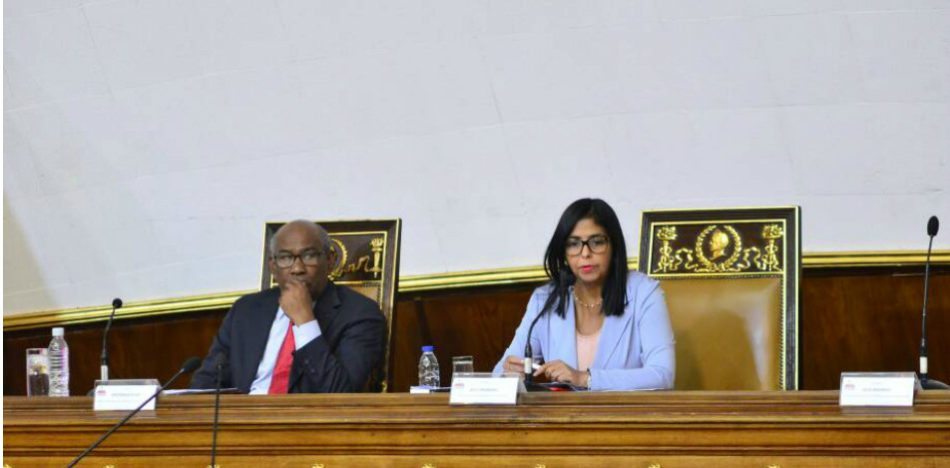 EspañolThe Venezuelan regime has further consolidated the totalitarian state it has worked so hard to create. In a session held by the illegitimate National Constituent Assembly, Chavista officials approved the "Constituent Decree for the Validation of Political Parties."
Now, parties that did not register in the previous municipal elections can't appear on the presidential ballot in 2018. The illegitimate Constituent Assembly session has decreed that these political forces are ineligible due to their alleged threat against "the Venezuelan people's right to vote."
"With this legal instrument we will protect the vote of the people against the onslaught of sectors of the right that have sought to boycott electoral processes, as they did on July 30 with the election of the National Constituent Assembly," Delcy Rodríguez, its President, said.
The constituent and former Minister for the Penitentiary Service, Iris Varela, celebrated the act: "I see this decree as an enormous act of justice. We know that all Venezuelans do not have a representative democracy. We have transcended it, and it has cost us blood, sweat and tears to keep it."
Varela continued, "Here, the establishment of participatory and protagonist democracy is not a salute to the flag; it is a duty of those who defend this country and are willing to give our lives for it."
The Venezuelan opposition decided to refrain from participating in municipal elections following the failure of the regional elections on October 15. According to the leaders of the Democratic Unity Roundtable that participated in the regional elections, the Chavistas committed fraud and stole several governor seats.
However, the allegations of fraud have not been very successful, because the opposition was not prepared to make use of the information. The opposition remains divided on the issue, with many warning against participating in a fraudulent process without proper electoral conditions.
In the end, some parties ran and others did not. Main opposition forces like Primero Justicia, Voluntad Popular and Acción Democrática cannot present candidates for the next presidential elections in 2018.
https://twitter.com/ANC_ve/status/943550636850900994
https://twitter.com/ANC_ve/status/943564002201874433
The illegitimate decree follows a recent threat made by Maduro on the day of the municipal elections: "Any party that has not participated today and has called to participate in a boycott, will not be permitted to participate anymore. They will disappear from the political map."