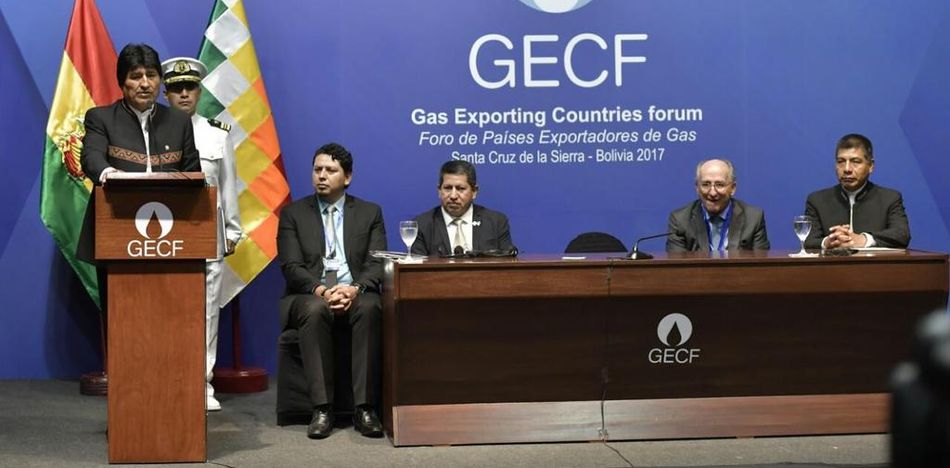 EspañolBolivian President Evo Morales announced that the state-owned hydrocarbon company Yacimientos Petrolíferos Fiscales Bolivianos has signed three contracts projected to generate approximately US $20 billion in oil revenue by 2021.
The contracts align with the interests of consortium led by the Spanish company Repsol and Brazilian Petrobras that will explore and exploit oil from three areas in Bolivia: Iñiguazu, San Telmo Norte y Astillero.
According to the information offered by the President during the Fourth Forum of Gas Producing Countries (FPPG) that took place in Santa Cruz de la Sierra, the investment will be approximately US $1.5 billion.
Estos 3 contratos, de lñiguazú, San Telmo Norte y Astillero, tendrán una inversión de $us 1.582 MM; total recursos 5 TCF; renta de $us 19.380 MM y una producción de 20.000.000 M3/día. pic.twitter.com/DNlI9FfcZ2

— Evo Morales Ayma (@evoespueblo) November 22, 2017
About US $200 million of the investment will be put into production in San Telmo. It was granted to Petrobras Bolivia and its subsidiary YPFB Chaco with a production goal of 10 million cubic meters per day and between one to two trillion cubic feet of reserve gas.
Another agreement in Iñiguazu foresees an investment of US $900, a production of 6.5 million cubic meters per day and at least three TCF. The contract that allows the creation of the consortium will include: YPFB Andina (46 percent), YPFB Chaco (13.445), Shell (15 percent), PAE (10 percent) and Repsol E & P Bolivia S.A. (15 percent), and is expected to generate an oil income of US $6 billion.
"Since there is an infrastructure (near Iñiguazú), if the exploration phase is successful, we can supply gas to the market very quickly," Repsol President Antonio Brufau said.
For the third contract in the Chaco Tarijeño, in Astillero, US $489 million will be invested. The contract with the subsidiaries Chaco y Andina, of YPFB, and Petrobras will have a production of 4.6 million cubic meters per day, with a reserve of one TCF and an oil income of more than US $6 billion.
Bolivia also offered the world's leading oil companies a guide detailing country's hydrocarbon potential, highlighting 80 areas reserved for exploration by YPFB with a potential of up to 60 TCF.
The hydrocarbon sector has not seen any growth in this first quarter of 2017. According to data revealed by the National Institute of Statistics (INE) in the first three months of this year the sector's production actually decreased by 14.1 percent.
The percentage of "growth" of hydrocarbons obtained in the first three months of this year goes hand in hand with the low rate of growth for the Gross Domestic Product obtained in the same period, reaching penalties of 3.34 percent, which represents the lowest rate of economic growth over the last last seven years.