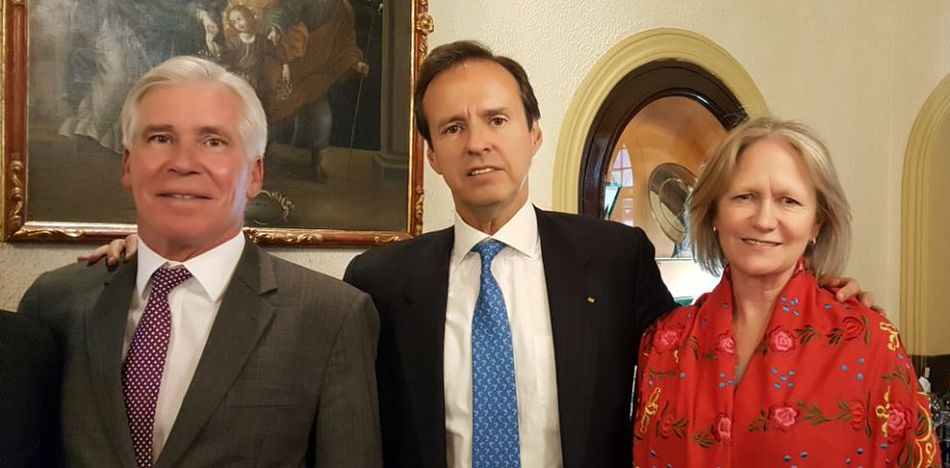 EspañolThe Bolivian government has filed a complaint with the United States regarding meetings that took place between the US Chargé d'affaires Peter Brennan and the country's opposition politicians.
"The fact that a Chargé d'affaires will only meet with the 'anti-Evo' … You do not have to be very smart to figure out what this man is doing," Bolivian Foreign Minister Fernando Huanacuni said in a radio interview.
President Evo Morales' administration has previously accused Brennan of alleged "conspiracy and interference in internal affairs." Now, it's protesting the embassy with the intention of enforcing "the agreements" that the US government "has adhered to" with Bolivia.
However, the meetings were allegedly held with the intention of dismissing Brennan, as his term as the highest diplomatic representative of the United States in Bolivia is going to end in December anyhow.
Despidiendo a dos amigos: Peter y Lizanne Brennan. En Bolivia y en democracia uno tiene el derecho a reunirse con quien quiera, donde quiera, cuando quiera, a conversar de lo que quiera, sin pedir permiso a "Maduritos". pic.twitter.com/2jr1JWyJyH

— Tuto Quiroga (@tutoquiroga) November 21, 2017
Tweet: Saying goodbye to two friends: Peter and Lizanne Brennan. In Bolivia, as in any democracy, you have the right meet with whoever you want, wherever you want, whenever you want, to talk about whatever you want, without asking permission from "old men". 
"The government must know that a social meeting is just that: a social meeting between several people, and is not necessarily political," opposition Deputy Amilcar Barral, who was present at several meetings, said.
Morales himself said that Brennan had requested a farewell meeting with him; however, he did not go because he considered it a "conflict of interest" and a poor decision by the US diplomat.
"How two-faced of Brennan," Morales said. "First he conspires behind my back, and now asks for a meeting with me? That's now how we do things here."
On several occasions, Morales has accused the US Charge d'affaires of "conspiring with the right" and that, according to Morales, "the US embassy planned to attack the government with (accusations such as) corruption and drug trafficking."
Morales has threatened to expel  the Charge d'affaires on several occasions, as he did in 2008 with Philip Goldberg, then-Ambassador of the United States.
Moralas has also accused Goldberg of having conspired with Bolivia's right-wing, leaving Brennan as its main representative.
According to Morales, the US is trying to "recolonize" Latin America and the Caribbean; however, the opposition has said it believes that Morales is using political discourse in order to try to maintain the support of the Armed Forces.
Opposition Senator Arturo Murillo has said in the past that "all that talk of 'the Empire' is an old trick. People do not believe that anymore. (Morales) wants to have the army on his side, and that's why he acts up this way. He's afraid that one day they will turn on him."
Sources: El Deber; Página Siete; Hispan TV; Telesur TV; Los Tiempos.