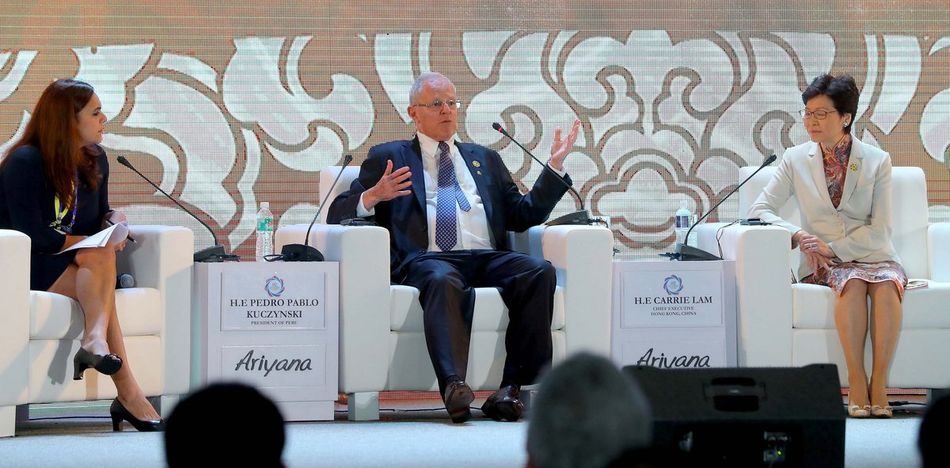 Español The President of Peru, Pedro Pablo Kuczynski traveled to Vietnam to take part in the 2017 Asia-Pacific Economic Cooperation Summit and stressed the importance of free trade.
PPK explained the importance of promoting the free market, and its ability to foster development. He noted the importance of being part of the largest international trade group in the world "representing 60 percent of international trade." He pointed to his own country as an example, claiming that Peru now has a positive global image and is open to investments.
In fact, in the third quarter of 2017, exports managed to bring the balance of trade to USD 2.752 billion for the country for the first time since 2013. Peru has the highest growth in South America, the highest public investment and the lowest inflation rates.
APEC was created in 1989 for the purpose of dealing with issues of trade exchange and economic coordination between member countries. The first meeting of the forum leaders took place in 1993, but it was not until 1998 that Peru joined.
Currently, APEC is made up of 21 members: Australia, Brunei Darussalam, Canada, Chile, The People's Republic of China, Hong Kong, Indonesia, Japan, Malaysia, Mexico, New Zealand, Papua New Guinea, Peru, Philippines, Russia, Singapore, Korea, Chinese Taipei, Thailand, United States and Vietnam.
PPK explained that all of these countries must fight against "negativism" and continue with investment agreements such as those Peru has with countries such as China, Vietnam and Japan. Additionally, PPK said he is trying to close a free trade agreement with Australia, one of the main points on his agenda.
Australian Prime Minister Malcolm Turnbull explained that the treaty "will create exports, income and jobs," eliminating 99 percent of tariffs on Australian imports, thus making it easier for Peruvians to access products from the country.
Though it is not yet known when these agreements — which have taken seven years to establish — will go into effect, the leaders of both nations have already signed a document declaring their intention to finalize the treaty.
PPK also met with Chinese President Xi Jinping and Japanese Prime Minister Shinzo Abe. In both meetings, PPK sought to strengthen Peru's friendship with Asian countries and discuss the possibility of increasing investment and trade.
El presidente @ppkamigo sostuvo un encuentro bilateral con el primer ministro de Japón @AbeShinzo en donde evaluaron diferentes posibilidades para incrementar la inversión y el comercio entre ambas naciones. #APEC2017 pic.twitter.com/lrysiWeYAp

— Presidencia Perú (@presidenciaperu) November 10, 2017
"These latest agreements will push economic growth, which, at the end of the day, translates to a decrease in poverty," Minister of International Commerce and Tourism, Eduardo Ferreyros, said.
Presidente @ppkamigo: "Las nubes oscuras del proteccionismo se disiparán, hay que luchar por el libre comercio". #APEC2017 pic.twitter.com/TESWjPLA9I

— Presidencia Perú (@presidenciaperu) November 9, 2017
PPK was accompanied by the Minister of Foreign Affairs Ricardo Luna at the summit, as well as the Chief of Protocol and State Ceremonies Juan Carlos Gamarra and Adviser of International Affairs Roberto Rodríguez.
The summit was also attended by leaders of the World Bank, the Asian Development Bank, the World Economic Forum, the Organization for Cooperation, as well as Economic Development and the Asian Infrastructure Investment Bank.
Sources: La República, El Comercio, RPP Noticias, Vietnam, El Peruano, El Comercio.