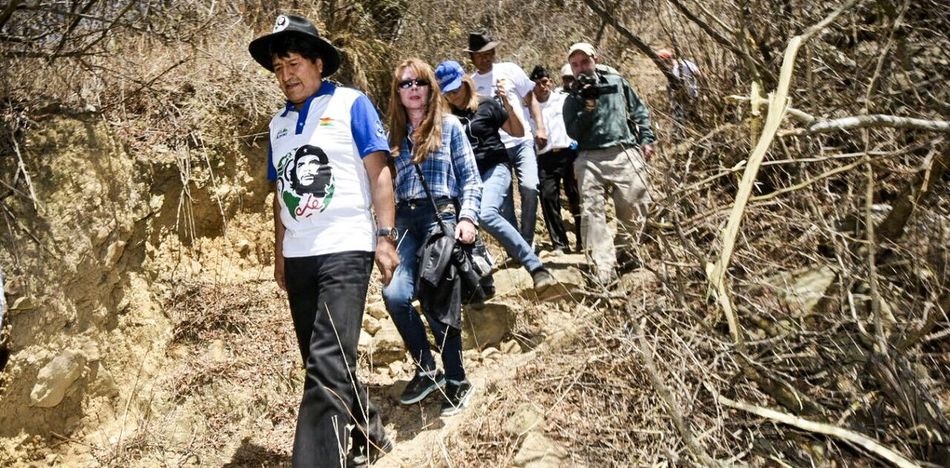 EspañolThough it isn't constitutionally legal for him to win reelection, Bolivian President Evo Morales campaigned at events celebrating the 50th anniversary of the death of Argentine-Cuban guerrilla, Ernesto "Che" Guevara.
Morales doesn't have permission from the Constitutional Court to change the country's constitution and run for a fourth term, but he made a circuit of campaign events nonetheless, taking advantage of every location paying homage to Che.
During those events, Morales reportedly wore a white shirt with both a presidential logo on the front and Che's face, as well as another lithograph of Che's face on the left shoulder, debuted in the province of Vallegrande, where the guerrilla was executed on October 9, 1967.
According to local media, Morales did not arrive there wearing the shirt, but rather received it from event planners when he got there. "Their militants from the Cuzco valleys had prepared (the shirt) for him," El Deber said. "They were dressed in the same way during an event that was carried out four hours later, at the Hospital of Malta of Vallegrande."
The Bolivian government had already made clear that it would take advantage of the commemorative acts of the guerrilla to send its citizens a message of continuity in support of Morales' reelection.
Como hace 50 años, imperialismo y sus agentes serviles no se conforman con haber asesinado al Che y tratan de matar la verdad y dividirnos. pic.twitter.com/aga2OLLxSf

— Evo Morales Ayma (@evoespueblo) October 8, 2017
Just like 50 years ago, the agents of imperialism are not satisfied with having killed Che, and they try to kill the truth and divide us. 
Minister of Culture and Tourism Wilma Alanoca said that the target message was "Che lives, Evo continues."
"It's very clear that for the president, the struggle continues, that the world knows that his affinity (to Che) will not die," she said at one event, "that we will continue with the ideology of living well, eradicating discrimination and any form of violations of rights. I don't think we have to mix up other issue."
Al revivir horas finales del Che reafirmamos nuestro compromiso con sus ideales. Su sacrificio es luz que alumbra el sendero revolucionario. pic.twitter.com/CArB2iI5RX

— Evo Morales Ayma (@evoespueblo) October 8, 2017
In celebrating the end of Che's life we reaffirm our commitment to his ideals. His sacrifice is a light that illumines the revolutionary path.