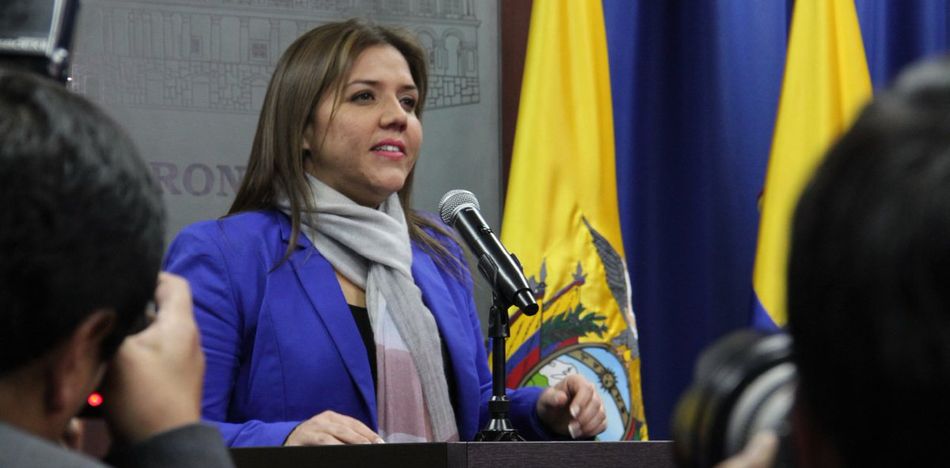 Español President Lenin Moreno has appointed a new Vice President of Ecuador after Jorge Glas was put in preventative custody for his alleged involvement in a bribe scandal with the Brazilian construction company Odebrecht. The new Vice President, though temporary, will be María Alejandra Vicuña, the current Minister of Urban Development and Housing.
The appointment took place Wednesday, October 4. Under article 150 of Ecuador's constitution, the head of state has the authority to appoint an interim replacement to the Vice President in case of a temporary absence.
DECRETO| Se designa como Vicepresidenta Constitucional de la República del Ecuador a @marialevicuna, Ministra de @ViviendaEc , durante el período que dure la ausencia temporal de Jorge Glas ➡️ https://t.co/8htUoHcNNC

— Presidencia ECU (@Presidencia_Ec) October 4, 2017
DECREE @marialevicuna is hereby declared Interim Constitutional vice president of the Republic of Ecuador during the temporary absence of Jorge Glas
Vicuña will occupy the position during Glas's absence, which will last at least as long as officials keep open their investigation into the bribe scandal, in which he allegedly accepted illegal campaign donations.
"A person who is incarcerated can't fulfill the role of Vice President," Moreno said hours before Vicuña's appointment. "For this reason, I have asked my team of lawyers to help me make a decision."
Vicuña will now "follow up on the progress of the popular consultation and referendum initiated with the request for constitutional control requested by the President of the Republic from the Constitutional Court on October 2, 2017, as well as other actions required, according to the Law, before the National Electoral Council," Moreno's official statement said.
The woman now in charge of the vice presidency of Ecuador said she was thankful for her appointment, and assured the people of Ecuador that she will strengthen the "citizen revolution."
"I thank you for your faith in me, Mr President @Lenin, and I assume this responsibility with the firm commitment to strengthen our Citizen Rev.!" She tweeted.
Sources: La República, El Universo, El Comercio.