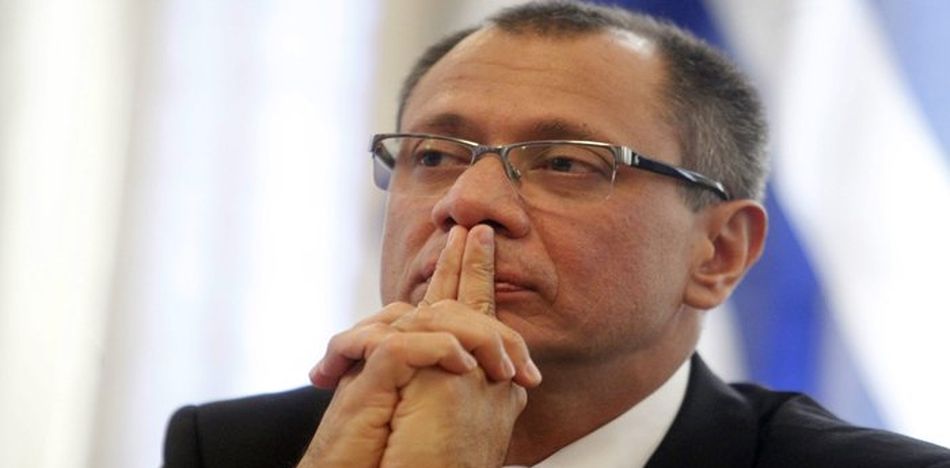 Ex-presidents of Ecuador, along with leading members of Ecuadorian civil society, have published a manifesto in which they ask vice president Jorge Glas to resign.
The signatories of the manifesto express that Glas should resign not only to allow transparency in the investigations of corruption against him, but also to guarantee the political stability of the country.
"The Ecuadorian people can no longer tolerate the ethical offenses of those in the highest levels of government, in actions or omissions, in which, if there was no direct corruption, at the very least, there appears to be serious cover-up of corruption," the statement said.
The manifesto reads:
"We ask the engineer [Jorge] Glas to have the basic decency to resign, to stand aside, for an investigation without interference; or, if there is no such response, we ask that the National Assembly impeaches him, in accordance with their functions."
The "Manifesto to the Nation" was signed by a group of 600 people, among them politicians, judges, and others. Signatories include names such as former presidents Gustavo Noboa Bejarano, Alberto Dahik, and León Roldos Aguilera.
Another who requested the resignation of Glas was the minister of Economic and Social Inclusion (MIES), Iván Espinel.
"We in a demonstration of the Social Commitment Movement, we have asked that the vice president of the Republic step aside, cease to perform his functions, in order to allow for proper due process on the part of the entities charged with investigating alleged acts of corruption."
However, Espinel is now being criticized by the ruling Alianza Pais party, and has even been asked to resign.
The party, through an official communiqué, responded to Espinel:
"You, Mr. Ivan Espinel, are not the elected authority. In fact, when he was a candidate for the Presidency of the Republic, you represented a part of the opposition to our winning presidential candidates. The political party which you lead, does not have political representation, because it took 3.18% of the vote in the past elections and did not get any seats in the National Assembly."
"These statements are an affront to the state, affect governance, and lead to the destabilization of a government legitimately elected by popular vote, of which Jorge Glas is one of its top representatives," said the party.
Ivan Espinel responded, commenting: it is a "pity that the Alianza Pais party is dedicated to attacking me personally, trying to change public opinion."
The minister assured that he has no intention of resigning, and that he doesn't have time to pay attention to messages on social networks, since he is busy "working for the Ecuadorian people."
Sources: La Republica, El Comercio, Metroecuador, Ecuavisa, La Republica