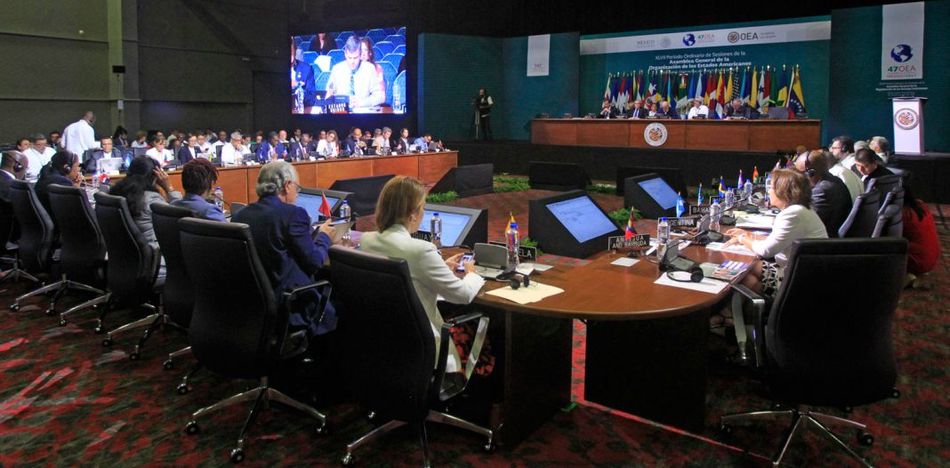 EspañolVenezuela has avoided a resolution in the Organization of American States that would have forced President Nicolas Maduro to stop his plan to abolish the current constitution and replace it with a constituent assembly. A group of small Caribbean islands, whose oil is subsidized by Venezuela, helped shift the OAS vote in Maduro's favor.
At the meeting of foreign ministers, more than 20 countries — including the United States, Canada, Mexico, Brazil and Argentina — voted in favor of a resolution calling for the cancelation of Maduro's Constituent Assembly. However, countries such as Saint Vincent and the Grenadines, Dominica, Saint Kitts and Nevis — all historic allies to the Maduro regime — voted it down.
Haiti, the Dominican Republic, Grenada, Trinidad and Tobago, Antigua and Barbuda abstained, which also negatively affected the decision, as if brought the vote down to 23.
According to Mexican Foreign Minister Luis Videgaray, some Caribbean nations had pledged their vote in favor of the condemnation of the crisis in Venezuela; however, minutes later, they voted overwhelmingly against it.
According to Jorge Piñon, Director of the University of Texas Center for Latin American Studies, the Caribbean islands' vote is meaningless from "a rational or economic point of view." However, others speculated that it may be a matter of corruption, and that Venezuela may be practicing again what is called "checkbook diplomacy."
"They tried to approve a text that contained certain criticisms, forgetting that to help is not to approve a text, but rather to reach an agreement with the governments close to the regime and to apply pressure to make a renewed and serious dialogue effort with very specific guarantees," said Mariano de Alba, a Venezuelan lawyer with expertise in the OAS.
OAS Secretary General Luis Almagro said the organization will continue to work toward defining an electoral calendar for the country, as well as to demand the release of political prisoners.
Almagro announced that the third OAS report on the crisis in Venezuela will arrive next week.
Sources: El Nuevo Herald; El Nacional; Euronews.