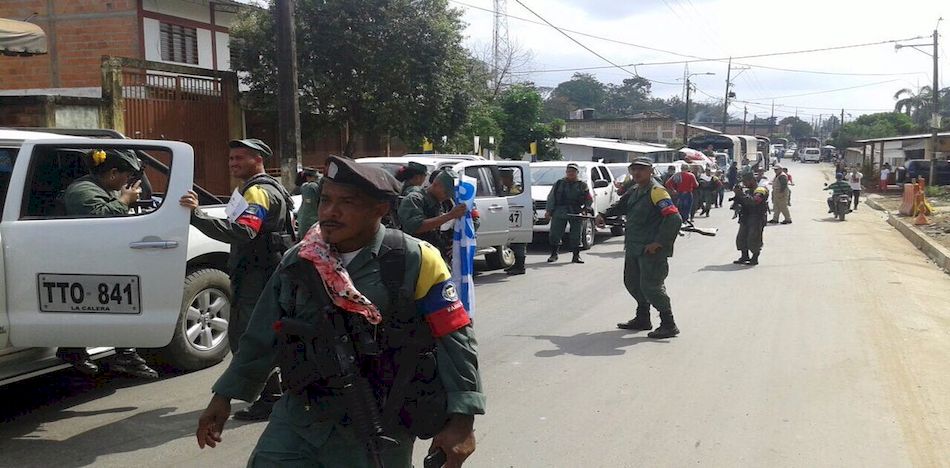 EspañolAuthorities in Colombia have seized US $10,000 in cash from FARC guerrillas who were leaving a rural transitional zone officials are trying to normalize as part of a peace agreement with the government.
The FARC guerrillas were in the municipality of Neiva within the Department of Putumayo, allegedly on their way to a traditional festival. But then they were caught carrying a massive amount of money in packages full of US $100 bill.
The Colombian Public Prosecutor's office released the men, but an investigation is reportedly under way regarding the origin of the large sum of money.
Rodrigo Lara, the Mayor of Neiva, said the guerrillas had been invited to the festivities in San Pedro but were carrying a suspicious amount of money, which is call for an investigation.
"They were invited by some companies from the private sector," he said. "Since the peace process is in effect, they were asked to participate with a cultural and folk group during local festivities."
Colonel Óscar Pinzón, Commander of the Huila Police, said that the incident happened at night near a checkpoint. The car had five people inside, and one of them had the packages with the money. They reportedly did not provide an explanation for where the money had come from or what they planned to do with it.
After verifying that the person responsible had no criminal record, he was released but the money was seized and subsequently made available for a prosecutor.
"We are waiting for a prosecutor to make a decision regarding these dollars and if that person can prove its source and legality," the official said.
In an interview with Blu Radio, Guerrilla member "Marcos Calarcá" said that the money seized was intended to pay the musicians at the festival.
Source: Blu Radio