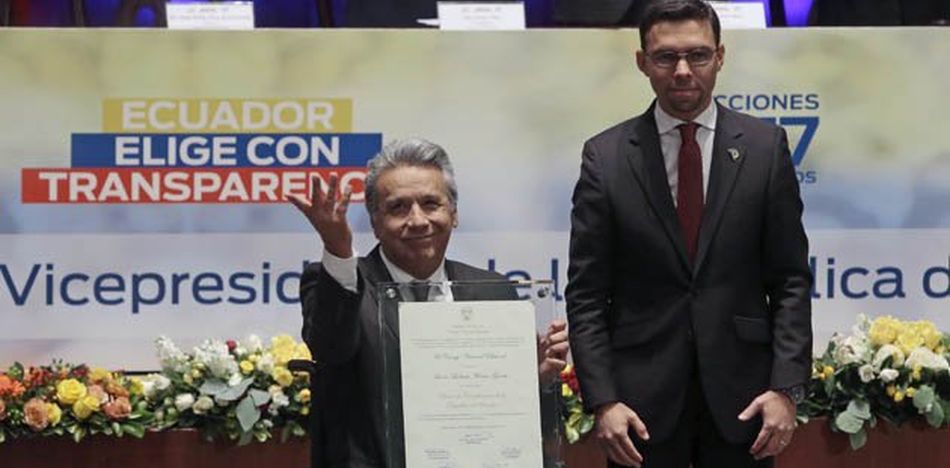 EspañolFormer Vice President Lenin Moreno will take over the Presidency of Ecuador this Wednesday, May 24, promising to continue leftist policies put forward by former President Rafael Correa, which have become known as 21st century socialism.
Moreno, 64, was sworn in by the country's unicameral Congress in front of a dozen other Latin American presidents. His term will last until 2021.
He graduated from the country's Central University with a degree in Public Administration. He was a high school teacher before starting his life as a politician, as well as an entrepreneur focused on promoting tourism.
"A passion for life forces us to deepen the changes we make," Moreno said, "and to defend social progress."
One of his main goals is to unify the country. He said he hopes to maintain his predecessor Rafael Correa's project of social inclusion and will continue strengthening Ecuador's economy.
"I will work for each one of you," he said upon receiving Presidential credentials Tuesday, May 16, "for those who voted for me and for those who did not."
Moreno promised to create 200,000 jobs and to provide preferential loans for young entrepreneurs and businesses looking to improve undeveloped sectors of the country as part of a plan to improve the economy.
The new president has already announced his cabinet, which is largely composed of businessmen, social leaders and his predecessor's officials. The National Assembly hosted the inauguration session on Wednesday, followed by lunch to celebrate.
Sources: El Nuevo Herald; El Universal; Gestión; Telesur.