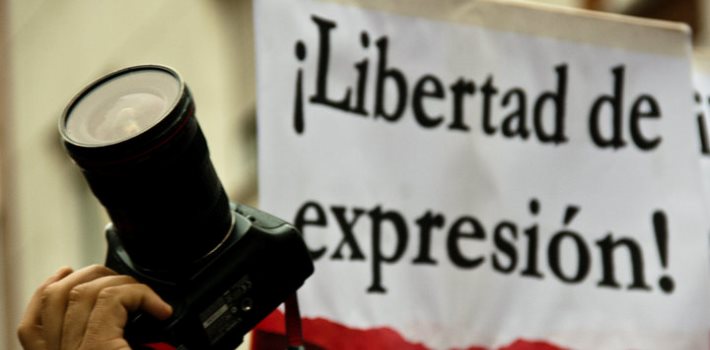 EspañolVenezuelan authorities detained four journalists at the Maiquetia airport who had come to cover the Wednesday, October 26 protest.
Peruvian journalists Ricardo Burgos, Leonidas Chavez and Armando Munoz of Televisa and Ricardo Venegas of Argentina — a photographer for the Associated Press — were all detained at the airport after being declared "inadmissible" by President Nicolás Maduro's adminstration.
The information was released by Peru's ambassador in Caracas, Mario Lopez, who explained that they needed a work visa to enter the country. He also stated that the journalists have not suffered any aggression and are doing well.
"I want to convey to the Peruvian population that journalists held in Maiquetia are doing well," he said. "I want to point out and be emphatic that they have not suffered any aggression," he said.
Lopez said that Venezuelan authorities are very strict in enforcing the entry of journalists to the country.
"We are working both with the embassy and the consulate so they can finally authorize their entry," Lopez said.
Paola Burgos, daughter of Ricardo Burgos, said that the news team arrived at the airport at 3:25 a.m. on Wednesday.
"Supposedly they will be released tomorrow," Burgos said, describing the incident as an "attack on freedom of expression."

"Apparently they are not letting foreign journalists into Venezuela because of the terrible condition the country is in," she said. "I guess they feel threatened by a different perspective to the one handled in the country."
Burgos also released audio of her speaking with her father. In it, they discussed his plans to cover the march organized by the opposition.
Leonidas Chavez, one of the arrested journalists, used social media to describe what happened to him as "amazing."
"Venezuela declared us inadmissible," he wrote. "We have been expelled from the country. On many occasions I felt knots in my throat at such injustice. Today felt like a guillotine fell on my neck."
This is not the first time that journalists have been detained trying to enter Venezuela.
Director of Espacio Público Carlos Correa said he is dedicated to defending freedom of expression, and that he experienced a similar situation days before covering a September opposition march.
"The government denied entry to a group of journalists from the United States, Colombia, Mexico and France," he said. "They said that they did not have permission to work in the country."
He explained that "this is a practice that has been used since 2012 to prevent the entry of journalists. It is somewhat similar to what happens in Cuba where you have to apply for a permit beforehand … However there's no law for that and often correspondents send their documents to the Ministry of Communication and never receive a reply. "
#foto #AHORA #Urgente Periodistas @Televisa @AP_Noticias retenidos en aeropto #Caracas Gob #Venezuela los expulsará @Almagro_OEA2015 pic.twitter.com/hIHsS7E6un

— luis jaime cisneros (@ljcisneros) October 26, 2016
Journalist detained in airport, government of Venezuela will expel them.
Sources: El Nacional; El Comercio.