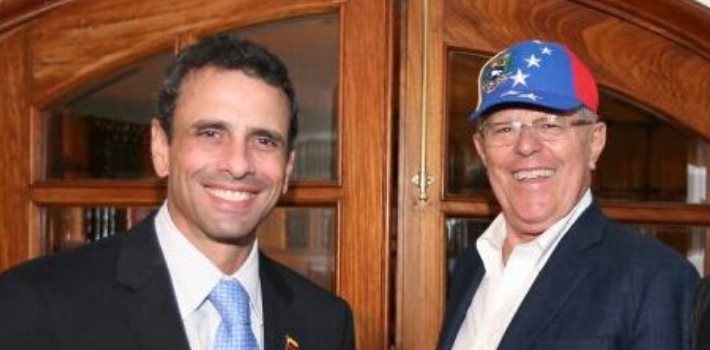 EspañolPresident of Peru Pedro Pablo Kuczynski (PPK) has recently publicized his support for the Venezuelan opposition by hosting its leader, Henrique Capriles.
"I appreciate the visit by Governor Capriles," PPK said, "and I have explained that our position is … a total respect for democratic rights and of tolerance."
He also highlighted Article 72 of the Venezuelan Constitution in which the referendum process for impeachment is defined:
"We support democracy, respect for the other country, non-interference and, above all, human and democratic rights," he said, "which are embodied in Article 72 of the Venezuelan Constitution."
PPK said his intention were not to interfere in the political life of Venezuela, but that he morally supported the country.
"It is an appropriate meeting, I support democracy, and good causes and he (Capriles) is part of a good cause," he said.
As for the motion of solidarity with Venezuela, the Peruvian Congress responded positively to approving it, voting 103 in favor, 13 abstentions and only three against.
PPK said he felt a "deep concern about the political and humanitarian crisis in Venezuela."
He also expressed his disapproval of the violation of freedom of expression.
During his trip to Peru, Capriles also invited the international community to attend the "Great Occupation of Caracas" which will be attended by thousands of Venezuelans September 1 with the intention of demanding the recall referendum be completed before the end of 2016.
Several countries have rejected attempts to delay the recall referendum. Fifteen OAS countries signed last Thursday, August 11 to ensure the exercise of constitutional rights of the people in hopes that the referendum will be carried out.
The countries that signed the text include: Argentina, Belize, Brazil, Canada, Chile, Colombia, Costa Rica, Guatemala, Honduras, Mexico, Panama, Paraguay, Peru, the United States and Uruguay.
"We underline our support for timely, national, inclusive and effective dialogue that addresses the urgent needs of the people of Venezuela," the text said. "To preserve peace and security and ensure full respect for human rights, due process, separation of powers and the consolidation of representative democracy."
Sources: El Nacional; Caraota Digital