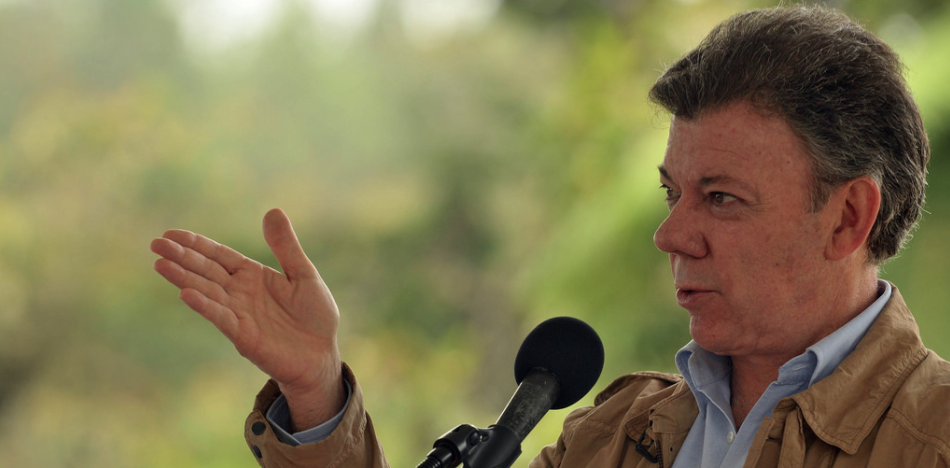 EspañolA recent recording has been released in which Colombia President Juan Manuel Santos can be heard threatening to censor a journalist.
Gustavo Rugeles tweeted out a recording this week in which President Juan Manuel Santos complains about the questions being asked by RCN's Karla Arcila, telling her that she should more carefully select those having to do with his Nobel Peace Prize.
In the audio, Arcila can be heard trying to explain that the question about links between the Nobel committee's Chairman Kaci Kullmann Five and Statoil — an energy company that recently received a government license — was agreed upon by all the journalists present at a Nobel Prize press conference. Then Santos calls the topic "terrible and offensive."
The license is reportedly going to be used to exploit oil in Colombia's Caribbean.
"Colombian journalism is very bad, it's a shame," President Santos said while continuing to reproach the journalist for the question.
Arcila asks that "the scolding" be for everyone, since it was a consensual question agreed upon by the entire Colombian press, and said that this was an opportunity for him to clarify what happened, and was not intended as an attack on his image.
Santos responds by saying "those questions are not asked" and that the media cannot simply be the mouthpieces of the opposition, to which Arcila replies that if they do not ask the question, it would be self-censorship.
Santos says it is impossible to buy the Nobel committee, and that she should better filter her questions.
Arcila stands her ground, however, reminding him she is not the only member of the Colombian press alarmed by the possible link between Statoil and the Nobel prize committee.
Audio: Presidente Santos le dio clases a Karla Arcila. Dijo que sentía ''vergüenza por el periodismo colombiano''.https://t.co/vy2Ayy8Rx5

— Gustavo Rugeles (@GustavoRugeles) December 12, 2016