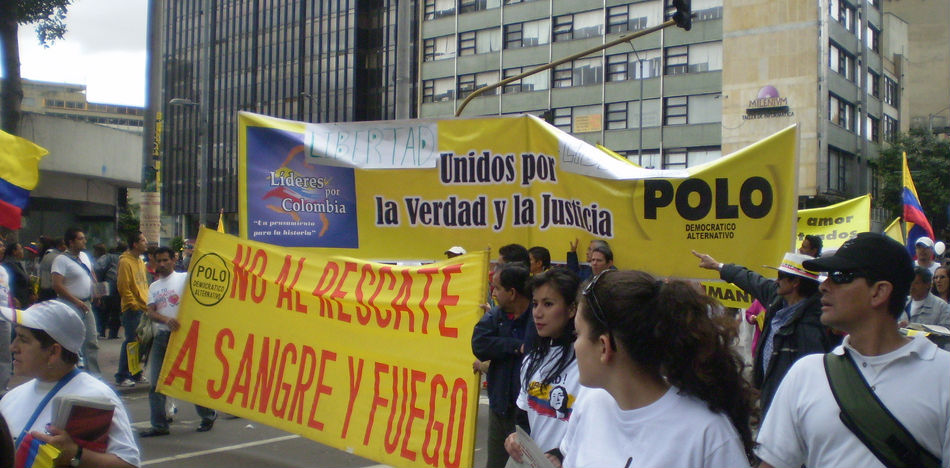 Following the recent convention of Colombia's main leftist party the Polo Democratico Alternativo (Alternative Democratic Pole), internal divisions were brought to a boiling point over decisions regarding whether or not to participate in the transitional government or form possible alliances with current president Juan Manuel Santos in the 2018 elections.
This led Julio César Mancera, vice-president of the Polo Democratico, to accept the invitation of Enrique Vargas Lleras, brother of the current vice-president Germán Vargas Lleras, to be part of the Partido Radical (right-center party that is part of the official party), together with segments of the electorate that have traditionally formed his base, such as Colombia's LGBTI community.
Mancera, in addition to joining forces with the vice president's brother, accused forces allied with presidential candidate and Polo Democratico icon, Jorge Enrique Robledo, of buying votes inside the party machinery at the expense of marginalized groups in Colombian society that have traditionally supported the left.
In an interview with the Colombian radio station La FM, Mancera said: "We consider it to be a historical outrage that historically vulnerable groups that the Polo Democratico always recognized, such as the LGBTI population, Afro-descendants, raizales [Indians of the Archipelago of San Andrés, Providencia and Santa Catalina in Colombia] and the ROM [Roma] people, have been kicked out of the back door through a spurious vote by an executive committee that sought to boost its own interests at the expense of the dignity of these people."
With the departure of Mancera, the Polo Democratico is facing a crisis in terms of ideology and strategy, as the Colombian left has suffered in recent elections. The party will need to seek a legitimate means to unite the remaining coalition that makes up the Polo Democratico, and set aside internal divisions, if they desire to mount a credible candidacy for the presidency in upcoming elections in the summer of 2018.
Current president Juan Manuel Santos, who has served since 2010, is term limited, and can not seek reelection. Originally a candidate of the centre-right, closely associated with Uribe, Santos has angered many on the right with his instrumental participation in Colombia's peace process with the FARC rebel group.
Source: La FM