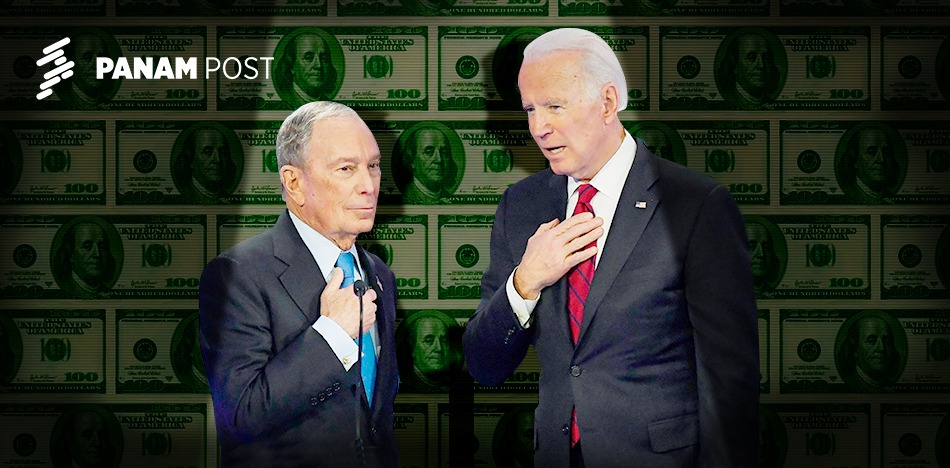 Spanish – Michael Bloomberg continues his crusade to try to bring Democratic candidate Joe Biden to the White House. A week before the U.S. presidential election, it was revealed that the former mayor of New York made a last-minute investment of 15 million USD in advertising for Biden in Ohio and Texas in addition to the 100 million USD he has already invested in Florida for the Democratic candidate.
According to information published by the Washington Examiner, the political advisors of the billionaire media mogul proposed to make this additional investment in television ads after conducting a survey in the key states to win the election.
"We believe that Florida will go down to the wire, and we were looking for additional opportunities to expand the map. Texas and Ohio present the best opportunities to do that, in our view," Bloomberg adviser Howard Wolfson told the New York Times.
Three critical states
Texas, Ohio, and Florida are considered decisive in winning the election, not only because of the number of electoral votes they provide but also because of the close result predicted by the polls. With 36 electoral votes, Texas is the second most coveted state, surpassed only by California, with 55. Meanwhile, Florida has 29, while Ohio has 18.
In the latter state, the polls show a tie, according to the most recent study conducted by RealClearPolitics. Historically, Ohio is a swing state, but in 2016, Trump managed to win it. In Texas, the Republican beat Biden by 3.2 percentage points. This is not considered a comfortable advantage, considering that it has been a traditionally Republican state. And Florida remains the most contested. The narrow 1.2 point lead in favor of Barack Obama's former vice president is considered a virtual technical tie.
Controversial investment in Florida
Bloomberg's investment in Florida in favor of the Democratic candidate has been the most significant and controversial. A New York Times op-ed article titled: "Here's How Bloomberg Can Help Biden Win Florida" praises the former New York mayor's decision to allocate 100 million USD to boost Biden's bid in the state.
The problem here is not the amount invested, but one of the methods used to recruit voters. On September 22, Republican Congressman Matthew Gaetz asked Florida's Attorney General to open an investigation of Michael Bloomberg for allegedly bribing and buying votes for Joe Biden.
The representative for Florida's first district shared on his Twitter account a statement he gave to Fox Business, in which he explained how the former New York mayor would be committing the crimes.
"In Florida, you are not eligible to vote if you are a convicted criminal and have not paid outstanding court costs, fines, fees, and restitution. So what Michael Bloomberg is doing is creating a politically motivated way to retire the debts of these criminals in exchange for their votes. And it's not every felon; it's just those they have specifically identified as Biden's voters. That is offering a bribe, an inducement, for someone to behave a certain way in voting."
#BREAKING: I'm calling on the Florida Attorney General to launch an investigation into @MikeBloomberg for potentially engaging in bribery and vote buying in the state of Florida. pic.twitter.com/2pAjZlAwSh

— Rep. Matt Gaetz (@RepMattGaetz) September 22, 2020
To date, Bloomberg has helped pay off the outstanding debts of 32,000 convicts in Florida so they can regain their right to vote before the November election, according to an Axios report published by the New York Post.
Bloomberg has raised more than 16 million USD and donated 5 million USD to the Florida Rights Restoration Coalition (FRRC).
Other Million Dollar Investments in Democratic Campaigns
The former mayor of New York also spent one billion USD in his bid to win the Democratic nomination that eventually went to Biden, Axios reported.
According to this publication, Bloomberg also plans to spend 20 million USD on Democratic candidates in Arizona, North Carolina, and Texas, committed to the agenda of aggressively tackling climate change.