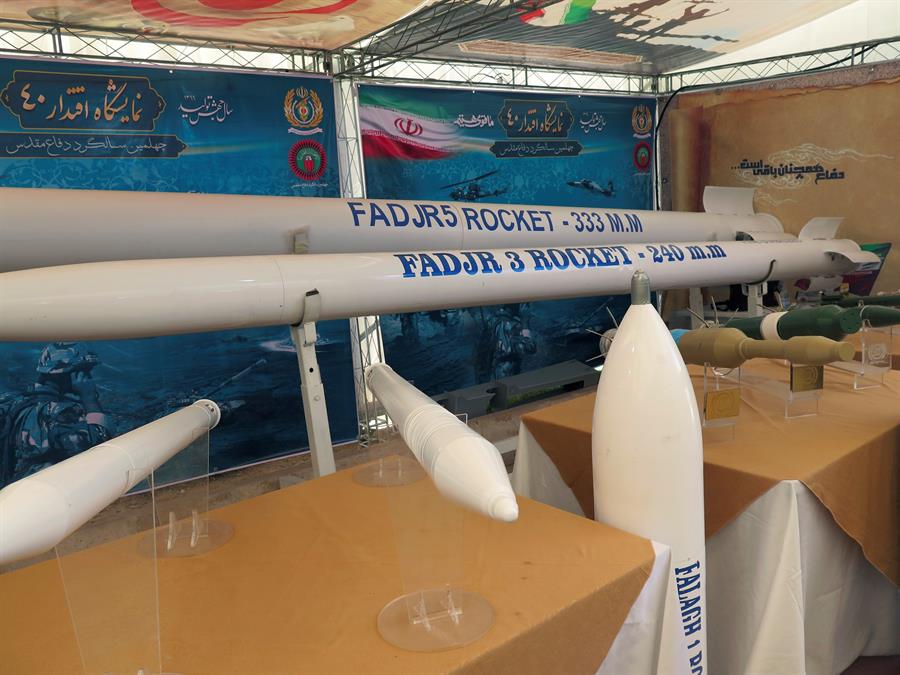 Spanish – The day most awaited by the Iranian regime has arrived. Starting Sunday, October 18, Iran will be able to buy and sell weapons, thanks to the expiration of the international embargo. The United States remains alert after its failed attempt to extend the embargo and the growing presence of Iran in Latin America.
The United Nations Security Council imposed the sanction on the Iranian regime in 2007. The UN resolution 2231 established the end of the embargo. It validated the nuclear agreement of 2015 and from which the United States withdrew in May 2018.
The White House insisted on the need to extend this measure indefinitely, given the danger of Iran acquiring weapons or selling them to its allies. However, on August 14, 13 of the 15 members of the Security Council rejected the proposal.
Venezuela, in particular, has strengthened its relationship with Tehran to supply itself with Iranian gasoline in recent months, which could hide other interests. An eventual purchase of missiles by Nicolás Maduro's regime from the Islamic Revolutionary Guard is a fear that worries democratic governments in the region. This fear grows with the warning of experts as the pieces of the puzzle are put together.
Iran plans to buy weapons from Russia and China
Since October 18, 2020, is the date on which all restrictions on the export and import of arms expire, the lifting of the embargo is automatic. Iranian Foreign Minister Mohamad Javad Zarif detailed this in a statement published on Twitter.
A momentous day for the international community, which— in defiance of malign US efforts—has protected UNSC Res. 2231 and JCPOA.

Today's normalization of Iran's defense cooperation with the world is a win for the cause of multilateralism and peace and security in our region. pic.twitter.com/sRO6ezu4OO

— Javad Zarif (@JZarif) October 17, 2020
"Naturally, from that date, we'll trade, on the basis of our national interests, with other countries in this field," said Tehran's UN spokesman, Alireza Miryousefi, in an interview with Newsweek magazine, "Iran has many friends and trading partners, and has a robust domestic arms industry to ensure its defense requirements against foreign aggression," he added.
Russia and China are the main markets that Iran will turn to for arms. Mohamad Yavad Zarif said last month that although Iran is "self-sufficient" in many cases, it can "meet its strategic needs through the countries with which it interacts, such as Russia and China," according to EFE.
United States threatens potential partners with sanctions
The U.S. Secretary of State, Mike Pompeo, issued a warning this Sunday to potential partners of the Iranian regime. After Tehran's celebration of the expiration of the embargo, the head of U.S. diplomacy clarified that Iran does not have a free path to buy and sell weapons since it would violate UN resolutions.
"No nation that desires a peaceful Middle East should contemplate arms sales with Iran – every weapon the regime buys will be at the disposal of its radical ideology. We are prepared to use domestic authorities to sanction individuals or entities contributing to these arms sales," Pompeo said on Twitter.
No nation that desires a peaceful Middle East should contemplate arms sales with Iran – every weapon the regime buys will be at the disposal of its radical ideology. We are prepared to use domestic authorities to sanction individuals or entities contributing to these arms sales.

— Secretary Pompeo (@SecPompeo) October 18, 2020
Iranian missiles in Venezuela?
But just as Iran seeks to acquire arms, it also wants to engage in export. In this sense, Tehran is targeting Latin America. In August, Colombian President Ivan Duque reported that Nicolás Maduro's regime was negotiating a purchase of missiles from Iran. "There is information from international intelligence agencies" that "Nicolás Maduro is interested in acquiring "medium and long-range missiles, through Iran," the Colombian president warned.
#20Ago | @IvanDuque, presidente de Colombia ??, denunció que el régimen de Nicolás Maduro pretende comprar misiles a través de Irán.

?️ "Todo esto muestra una estructura criminal".

— El Diario (@eldiario) August 20, 2020
Maduro was quick to respond. Initially, he denied the Colombian president's complaint but later stated that it was "not a bad idea". He also took the opportunity to order his Defense Minister, Vladimir Padrino López, to investigate the agreement. According to the Colombian president, Maduro's defense minister, Vladimir Padrino López, is behind the negotiations.
Military agreement between Venezuela and Iran
Based on this allegation by the Colombian president, the executive director of the Center for a Free and Secure Society, Joseph Humire, published an article at the Gatestone Institute International Policy Council titled: Iran's Next Move: Arms Transfers to South America? In this report, he warns of the danger posed by the Venezuelan regime's acquisition of Iranian missiles. Humire also warns that history may repeat itself in Bolivia if the party of former president Evo Morales returns to power.
The article points out that for 14 years, the Ministry of Defense and Logistics of the Armed Forces of Iran has been working with Venezuela's Company of Military Industries (CAVIM) to consolidate the presence of the Islamic Revolutionary Guard Corps in Venezuela.
"This cooperation included designing Venezuelan unmanned aerial vehicles (UAVs), constructing ammunition-manufacturing plants, refurbishing jet engines, and trading parts for fighter jets and helicopters," the report states.
However, covert military cooperation underlies this agreement. Joseph Humire stresses in his article that Iran used these joint military projects to set up a network in Latin America for the procurement of parts, minerals, metals, and technology to circumvent the embargo ban on Iran.
Missile production
Citing the #FinCENFiles, a massive leak of documents from the U.S. Financial Crimes Enforcement Network, Humire warns that between 2010 and 2015, Chinese businessman Cheng Mingfu was allegedly helping finance a secret missile program in Iran from his base of operations in Leon, Guanajuato, Mexico.
Cheng Mingfu was sanctioned in 2016 by the U.S. Treasury Department for his business with Navid Composite Material Company. This Iranian company is part of the Ministry of Defense and Logistics of the Iranian Armed Forces, the entity in charge of supervising the production of missiles. In 2013, the company was also sanctioned for its involvement in Iran's covert purchase of weapons components.
According to the report, between 2006 and 2013, the Defense Industries Organization, the main Iranian rocket fuel procurement arm of the Ministry of Defense and Logistics, had a subsidiary in Venezuela. This is Parchin Chemical Industries (PCI), which had its headquarters in Morón, Carabobo. The firm was apparently helping CAVIM produce gunpowder for its military agreement with Russia.
"The covert objective of PCI in Venezuela is not clear; however, the fact that a MODAFL front company involved in Iran's missile programs was operating for several years in a remote town off the Caribbean coast of Venezuela, should be cause for concern."
Iran has eyes on Bolivia
The links between Bolivia and Iran are less well-known. Joseph Humire's article points out that during the 14 years of Evo Morales' mandate, Iran made solid proposals to attract the Andean country to its geopolitical orbit. "Like Venezuela, Iran's formal cooperation with Bolivia has a dual-use component that raises suspicion for potential covert activity."
Humire recalls that in July 2019, then-President Evo Morales received the last delegation from Iran to set foot in the country. The mission was headed by none other than the Minister of Foreign Affairs, Mohamad Javad Zarif. The agreements they signed include the transfer of Iranian nanotechnology to Bolivia.
Iran's defense minister, General Amir Hatami, said last year that nanotechnology has helped boost military power in his country. He said it "has a major impact on the future development of defense systems."
"That development causes one to question if Iran were using its commercial and technology cooperation with Bolivia to set up future arms transfers, as it is doing in Venezuela," warns Joseph Humire in his report.
Although these efforts stopped with the departure of Evo Morales from power, Sunday's presidential election will be crucial in this matter. Bolivians have elected their next president on the same day that the embargo on Iran was lifted. The unfortunate victory of Luis Arce, the candidate of Evo Morales' party, Movement Towards Socialism (MAS), could open the doors again to the Iranians in that country.