EspañolOn Sunday, March 1, Tabaré Vázquez was sworn in as the new president of Uruguay. As is customary, he extended invitations for other dignitaries of the region and worldwide to join him for the momentous occasion. The inauguration ceremony also had a symbolic value: it marked 30 uninterrupted years of full democracy in our country.
Although worthy of celebration, it simultaneously brought to mind the military dictatorship that ravaged Uruguay in the 1970s and 1980s. It was an autocracy that curtailed freedoms, jailed dissidents and political opponents, tortured, ended lives, and destroyed families — and this grim episode for democracy was clearly at the forefront ot Uruguayans' minds.
A few days before Vázquez's inauguration, the Foreign Ministry announced the list of foreign guests to attend the ceremony. It included Presidents Michelle Bachelet (Chile), Nicolás Maduro (Venezuela), Raúl Castro (Cuba), Horacio Cartes (Paraguay), Dilma Rousseff (Brazil), Ollanta Humala (Peru), Rafael Correa (Ecuador), and Daniel Ortega (Nicaragua). Also due to be present were US Vice President Joseph Biden and emeritus King Juan Carlos I of Spain.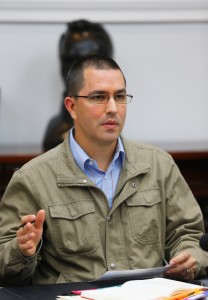 Newly appointed Foreign Minister Rodolfo Nin Novoa told press after the that Vázquez would also hold bilateral meetings with representatives of Cuba, the US, and Venezuela.
But on Saturday, February 28, Vázquez received two phone calls within a few minutes of each other, one from Biden, and the other one from Maduro. For different reasons, both informed him that it would be impossible for them to travel to Uruguay.
Biden pulled out a sick note, saying was that he was suffering from a bad cold that prevented him from traveling. Maduro, meanwhile, argued that despite "his firm intention to be present", the critical political situation that his country is going through "prevented him from realizing that desire."
Maduro's pretext may sound convincing to anyone who is not aware of the current situation of public opinion in Uruguay. However, those who are in the know could easily divine that something is at work beyond the official statements.
Our hypothesis is that people close to the incoming Uruguayan president advised Maduro not to come if he didn't want to face a hostile reception — which, for the embattled Venezuelan premier, would be inevitable the second he stepped into any genuine democracy with full free expression.
The ruling Broad Front released a statement a week previously supporting the Venezuelan government, stressing "the institutional strength that has been given to the people of Venezuela in the framework of its Constitution and its laws. Institutional strength from which the legitimacy of President Nicolás Maduro is derived."
Moreover, Vázquez's party criticized "destabilization attempts and external interference in the internal affairs of Venezuela." A vote on the statement passed unanimously, despite multiple members of the party disagreeing with it.
That announcement came as a surprise to many in the leftist coalition. Even to members of the incoming government, given that the previous avowed position of the Secretariat of the Broad Front was "not to release any statement" with regard to the Venezuelan crisis. But ultimately the pressure of the Communist Party, which asked for explicit support to be offered to the Venezuelan government, had a greater influence.
This position was maintained by outgoing President José Mujica, who not only failed to condemn the arrests of Venezuelan opposition politicians, but also supported Maduro using very similar words.
However, the new administration has given clear signs of an about-face. Nin Novoa explained that the Vázquez administration would follow "with concern and close attention the happenings in Venezuela. We respect the institutions of that country, obviously, and we know and hope they will comply with the guarantees of due process in all cases in which there are arrests or prosecutions."
Faced with a specific question of whether there have been attempts at destabilization in Venezuela, Nin Novoa demurred: "I have no evidence; we must act with caution on this issue."
In the same line of thought, several leftist politicians criticized the statement released by the Broad Front. For example, Rafael Michelini, son of former Senator Zelmar Michellini, who was killed by the military dictatorship in 1976, said the policies implemented by Maduro are "unacceptable and repressive."
Esteban Valenti also spoke out against the Maduro government:
La escalada represiva en Venezuela es muy peligrosa para la democracia. No se puede tener dos morales democráticas.

— Esteban Valenti (@ValentiEsteban) February 24, 2015

"The escalation of repression in Venezuela is very dangerous for democracy. You cannot have two democratic standards."
If these were the complaints arising from a section of the ruling party, the opposition's declarations were far less forgiving. Pedro Bordaberry — former presidential candidate for the Colorado Party — made it painfully clear on Twitter:
Haremos sentir nuestro rechazo al Sr Maduro si viene al Uruguay

— Pedro Bordaberry (@PedroBordaberry) February 23, 2015

"We will make Mr. Maduro feel our rejection if he comes to Uruguay."
Blanco Party deputy José Carlos Cardoso meanwhile wrote: "If Maduro comes to Parliament on March 1, we will issue a political resolution about his decision to put political opponents in prison. We will let Maduro know he's not welcome here, for repressing [Venezuelan citizens].
Meanwhile, Blanco Party leader Luis Lacalle Pou rejected "the undemocratic attitude of denying freedom to those who think differently. He will not be welcome in Uruguay."
Ordinary citizens also made their views known. A group titled "Maduro Unwelcome" currently has thousands of members on Facebook. On Twitter, people used the hashtag #MaduroOutOfUruguay (#FueraMadurodeUruguay).
So it may well be that, warned of this hostile environment, Maduro decided that Vice President Jorge Arreaza would travel south in his stead. But even Arreaza was rejected by ordinary Uruguayans. When his attendance was mentioned out loud he was booed and jeered by the audience.
The episode is proof that international public opinion can, in fact, be effective, visibly shaming autocratic rulers and isolating them from global society. In addition, it raises questions over the true priorities of those governments who endorse oppressive governments with their silence.
Translated by Rebeca Morla. Edited by Fergus Hodgson.