EspañolThe Inter-American Commission on Human Rights (IACHR) issued precautionary measures to protect 26-year-old Venezuelan students Lorent Saleh and Geraldo Carrero, currently detained at a Caracas prison known as La Tumba (the Tomb). In a press release on March 2, the international body urged the Maduro administration to safeguard their "rights to life, health, and personal safety."
On July 8, 2013, Tamar Suju, a lawyer at the human-rights NGO Venezuelan Penal Forum, requested that the IACHR intervene to protect Saleh's physical and mental health, later adding Carrero to the request.
The IACHR responded through Resolution 6/2015, affirming Saleh and Carrero "are in an urgent and grave situation" and demanding the Venezuelan government respond to its precautionary measures within 15 days.
"The Commission calls on Venezuela to: a) Adopt the necessary measures to protect the lives and personal integrity of Lorent Saleh and Gerardo Carrero. In particular, provide them with adequate medical attention; b) To ensure their detainment conforms to international standards, taking into account their health condition; and c) To coordinate the measures with the beneficiaries and their representatives," states the press release.
Saleh is a well-known opposition activist who in 2010 was accused by the Maduro regime of close ties with former Colombian President Álvaro Uribe and targeted for prosecution, according to the IACHR press release.
On February 19, 2014, while anti-government protests raged in Venezuela, Saleh traveled to Colombia on a student visa. Saleh allegedly became involved in political activity in the country, and after his visa expired, Colombian authorities deported him, along with fellow activist Gabriel Valles, and handed them over to Maduro's intelligence agency SEBIN.
The Maduro administration then prosecuted Saleh for the alleged crimes of intimidation and incitement to public disorder, and the dissemination of false information.
Colombian opposition figures criticized Juan Manuel Santos's government for Saleh's deportation. Álvaro Uribe publicly said Santos should be held responsible for whatever happened to the student in the hands of the Chavista government. Néstor Humber Martínez, minister of the Presidency, justified the arrests, claiming in September 2014 that Saleh and Valles were "no angels."
"Some try to drape them in white garments, and not with camouflaged uniforms. They are portrayed with angel wings, but they show up with rifles," said Martínez. He added that it was "evident these Venezuelans were not engaged in peaceful activities and violated immigration laws."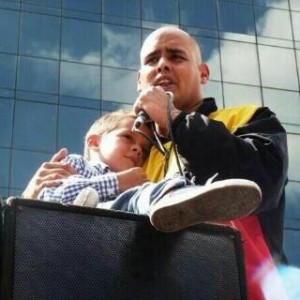 The other student the IACHR has sought protections for, Gerardo Carrero, has been imprisoned in La Tumba since August 2014, himself arrested for protesting and demanding the release of other detained students. Venezuelan police seized Carrero along with 242 other students on May 8, while they were camped out in front of the United Nations Development Programme (UNDP).
Carrero's father and members of the student organization Young Venezuelans have claimed that prison guards handcuffed Gerardo to his cell for 12 hours and beat him with a wooden board as punishment for starting a hunger strike. Afterwards, Venezuelan police transferred Carrero to La Tumba, where according to witnesses tortures regularly occur.
Following another 15-day hunger strike in La Tumba, during which Carrero lost 10 kilos, guards moved him to another cell block on February 22. They allegedly promised him better prison conditions if he gave up the protest.
Bound by Law
Inti Amaru Rodríguez, coordinator of human-rights NGO Provea, told the PanAm Post that IACHR's measures are an important decision that "reflect the concern among international bodies about the protection of human rights in Venezuela."
She said the statement is proof "of something we have been denouncing: that the government is not complying with standards to protect persons deprived of their liberty. These two people have been detained in inadequate police building and have been prevented from communicating with their lawyers and relatives."
Rodríguez noted that the Maduro administration has unfortunately consistently ignored recommendations and requests from international institutions. "However, the government is bound by the Constitution to comply with these measures by virtue of the international treaties it has signed."
She added that authorities detained roughly 3,500 people during the five months of anti-government protests in 2014, and over 2,000 of them are still facing criminal charges.
A Nightmare Prison
La Tumba is a cluster of prison cells located five stories beneath SEBIN headquarters in Plaza Venezuela, downtown Caracas. There is no sunlight nor natural ventilation system. The only sound comes from nearby subway trains.
The cells are 2 x 3 meters, with white walls and floors, and gray bars. Their occupants never leave the underground prison and are constantly monitored by cameras and microphones. According to Carrero's father, prisoners in La Tumba lose sense of time, because there are no clocks.
Family members have complained that the students locked up in La Tumba suffer from diarrhea, fever, vomiting, and dehydration, as well as vitamin D deficiency due to the lack of sunlight.
Translated by Daniel Duarte. Edited by Guillermo Jimenez.