EspañolThey say "truth is the first casualty of war." Amid conflict, the truth is often obfuscated by the aggressor, who at times, in the name of "the greater good," may even project deliberate falsehoods to justify the engagement. Once begun, it continues on, sustained by false pretenses, or "the big lie."
To begin to understand the causes and outcomes of any war, the public relies on members of "the fourth estate," journalists with the self-imposed task of uncovering the truth, to perform their duties without fear or apprehension.
Although perhaps a romantic ideal, press freedom can be measured on a continuum, and there are clearly places throughout the world where this freedom is in great jeopardy.
In Mexico, for example, much of the truth has been lost in the crossfire of the drug war, along with the lives of many of those who attempt to report it.
According to the nonprofit organization Reporters Without Borders, no fewer than 88 journalists were killed in Mexico from 2000 to 2013, with 18 others "disappeared."
Just last week, another name joined this already tragically long list, as police found the body of kidnapped journalist Gregorio "Goyo" Jiménez de la Cruz buried in the backyard of a home in the town of Las Choapas, Veracruz.
On February 5, 2014, Jiménez — a reporter for the daily newspapers Notisur and El Liberal — was abducted by armed assailants from his home in Coatzacoalcos, Veracruz. At present, the precise motivation for Goyo's murder remains unclear, as differing accounts have come from law enforcement, his family, and his colleagues at various media outlets.
Authorities initially issued a statement that declared the reporter was killed as a result of a personal feud between his daughter and the son of a neighbor and bar-owner, Teresa de Jesus Hernández. This has been disputed in accounts by Goyo's daughter, Cindy Jiménez, who said Hernández had her father killed by members of Los Zetas because of a story he wrote about a murder outside her bar in Coatzacolacos.
"Mrs. Teresa shouted at him 'remember the story you wrote. I'm holding on to that. I know the Zetas and I will have you killed,'" said Cindy, according to a statement to police read by a court employee.
Jiménez's colleagues, however, insist that his murder must have been related to his investigations into the rise in "disappearances, crimes, and kidnappings." Almost undoubtedly, they contend, it is linked to his reports of the kidnapping of Ernesto Ruiz Guillen — the outspoken union leader whose body was found buried with the reporter's.
One of the four people arrested in this case so far, Luis Marquez Hernández, allegedly confessed to kidnapping and murdering Ruiz Gullen, on orders from the local head of Los Zetas. Additionally, Cindy Jiménez also reportedly told police that when the gunmen entered their home to take her father, one of them could be heard saying, "He's the photographer" — identifying Jimenez as a journalist.
While the pieces in this investigation are being put together, it can be safely said that, no matter the foregoing motive, Goyo was indeed targeted because he was a journalist — his kidnapping and murder enabled by a climate of corruption and violence, exacerbated by a failed "war on drugs."
Just as the truth suffers in war, journalism itself can be observed among the casualties of this drug war. It not only is more difficult than ever to simply report the facts and present accurate portrayals of life in Mexico, the story itself can be manipulated and used as a political weapon.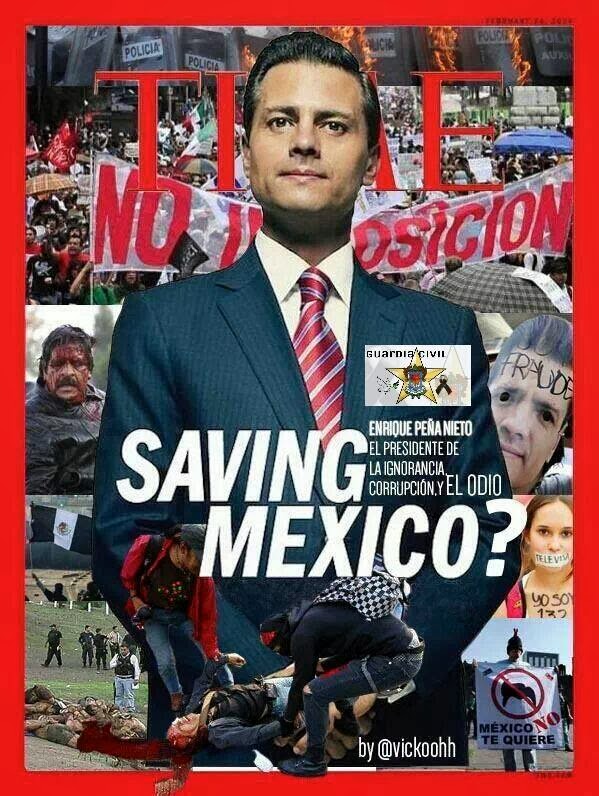 In July of 2012, Enrique Peña Nieto hired a US public relations firm to "clean up" the country's image, promote tourism, and developed a plan to decrease the reportage of drug war-related crime and violence in the press.
The scheme has worked to a certain extent, if only superficially. The official narrative formulates to depict a "safer" Mexico with Peña Nieto as it's "savior" — an image literally sold to the public through publications like Time magazine.
However, beyond this managed public perception campaign that has managed to fool the naive, there exists an objective truth — a reality that cannot be escaped so long as Mexico and its leading dance partner, the United States, continue down this path.
Cartel-related violence, murders, kidnappings are on the rise, and according to the latest World Press Freedom Index published by Reporters Without Borders, Mexico is one of the worst places on the planet for journalists. Its ranking of 152nd out of 180 puts it in the same class of countries as Iraq, Egypt, and Libya.
The state of Veracruz, a territory controlled by Los Zetas drug cartel, is an area of Mexico that is especially hostile to reporters. Gregorio Jiménez's murder marks the 10th such killing in the state since 2010, and the state bears the shameful recognition of being among the top 10 deadliest regions for journalists in the entire world.
The fact that this madness continues is a disgrace that extends beyond borders. Calls for justice continue to fall on deaf ears, since those looked upon to carry it out often have as much to lose in the exposure of criminality.
There is no justice without peace — and there is no peace in Mexico without an end to the war on drugs.