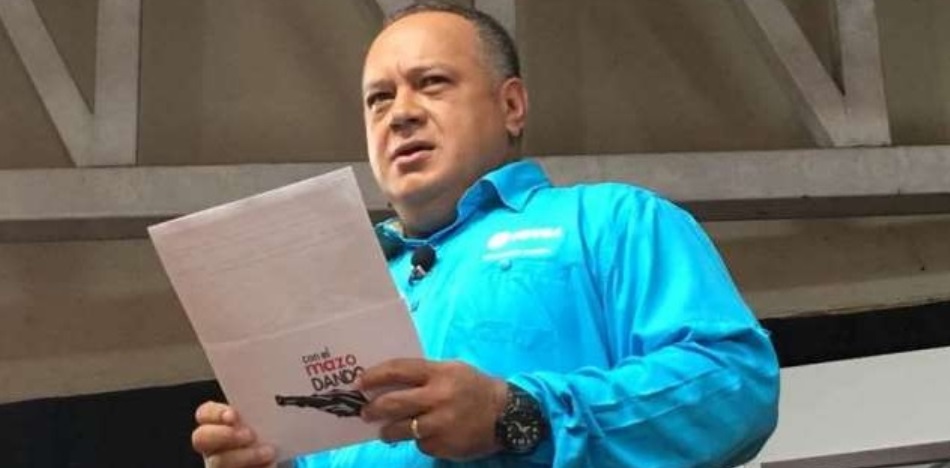 Spanish – Six generations of the consortium of Iberian hams and sausages, Cárnicas Joselito, fall into disgrace.  A financial operation, which extends over three continents, links Juan Luis Gómez Martín, CEO of the firm, to Diosdado Cabello, the second-in-command of the Chavista regime.
In a recording released by Ok Diario, the businessman claims that he acted as a "frontman" for Cabello to collect more than 300 million Euros from a bond of Venezuela's sovereign debt.
The evidence includes emails and recordings of the meetings.
Everything was planned
"They will have made their divisions, their partitions, and their moves," he says animatedly in the conversation recorded in May 2015.
During the conversation, Juan Luis Gómez assured that his partner, attorney Ana Berta González Quintas, was meeting with Cabello and Nelson Merentes, then president of the Central Bank of Venezuela.
On September 22, 2014, she signed the first Venezuelan bond in Hong Kong, representing the group of Spanish investors headed by Juan Luis Gómez.
The benefits of the bond were to be collected through a company owned by the lawyer, Paltel Business SL, incorporated on November 13, 2006, in Palencia.
To erase traces, this company was absorbed by a company based in a tax haven through which everyone would collect their profits in the Venezuelan bond.
Reasons for the operation
Given the economic difficulties, Gómez tried to sell the entire Cárnicas Joselito group, made up of 28 companies, for 2,100 million euros in 2013.
His potential buyer was the Canarian businessman Martín Jerónimo Hernández González. But Hernández invited him to participate in a more profitable business: to act as a "frontman" for the Chavista regime.
A woman of Venezuelan nationality, Verónica Álvarez, a resident of Florida (United States), contributed to the bond along with her husband, Hansy Alberto Araos, who claimed to be Merentes' nephew.
The collection was reportedly in a financial institution within 18 months, through a "trust."
After communicating that he had managed to complete the operation, Juan Luis Gómez not only discarded his old plans to sell the Joselito Meat Group, but also managed to restructure and relaunch it internationally.
Involvement in the questioning
In response to questions from OK Diario, Juan Luis Gómez denies the events and calls the experience "a scam." He declares that he didn't report it because "it's a very bad story of my life, which I want to move on from."
However, Ferrán Adria, a food critic, offers some insights into what Gómez is capable of. On the Joselito company's website, Adria says that the firm was founded by Juan Gómez's great-grandfather and has been in operation for a century.
He attributes this to the fact that "Joselito never skimps on any aspect of his products: he does not allow anything that could cheapen the product."
Enrique Calduch, a food critic, pointed out that the consortium "controls tens of thousands of hectares in the pasturelands of Salamanca, Extremadura and Huelva and. All their hams are sold by quota and in premier, that is, they are first paid and picked up years later."
The brand can be found on the menu of 90% of restaurants with two and three Michelin stars.
Experience in the industry
With more than 150 years of experience, Joselito suffers a setback after the links with a bureaucrat of the Nicolás Maduro dictatorship.
"The king of the counter," or "the patriarch of ham," as the firm's website describes Joselito, knows how to handle business. The brand has "blazed a trail around the world, creating truth and quality in the food industry, a sector that needs authentic players such as Joselito in order to conquer the world's markets."
The interest in José Gómez goes beyond borders. He managed to get the New York Times and the Financial Times to Salamanca to meet him.
The brand is present in 54 countries, with markets ranging from Australia to Europe and from America to Asia and their most recent incursion is China.
Gómez participates in the main national and international gastronomic events: the Sirha Salon in Lyon, the Hong Kong Gastronomy Fair, Alimentaria in Barcelona, and San Sebastián Gastronomika, among others.
He also takes part in events with luxury firms such as Dom Perignon, Ferrari, Rolls Royce, and Loewe, with whom he collaborates regularly.
Gómez is not the only one
Rafael Alfredo Sarria Díaz has become one of the priorities of the United States authorities since 2018. The Department of Justice is investigating him for the appropriation of state funds for Diosdado Cabello's drug trafficking operations, according to a report in El Tiempo. 
His name got international attention two years ago due to the seizure of a 20 million dollar luxury plane, which he had in a hangar in Florida, as well as assets in Manhattan and Boca Raton and three companies incorporated in Florida.
Sarría was a contractor for the regime's Ministry of Infrastructure.  "Diosdado met him at the military academy, from where Sarria prematurely left because he was apparently expelled," a relative of Sarria himself told El Tiempo.
The Treasury Department located 14 properties in the United States and expelled him for not demonstrating the legality of his immigration status.
More cause for concern
Sarria's brother, Edgar Alberto Sarria Díaz, is another of the leads pursued by the U.S. Attorney's Office for his company in Valencia, Spain, known as Panazeate SL.
The RunRunes portal adds that Sarria, in addition to the sanctions, has his assets frozen, while several of his companies and properties in the United States are blocked. Cabello doesn't talk about the case, and neither does Maduro.
For now, the proceedings against Cabello, which are being conducted in New York and Miami courts, continue to move forward, and it is clear that this is the mechanism that, for the time being, Washington has chosen to muzzle Maduro.