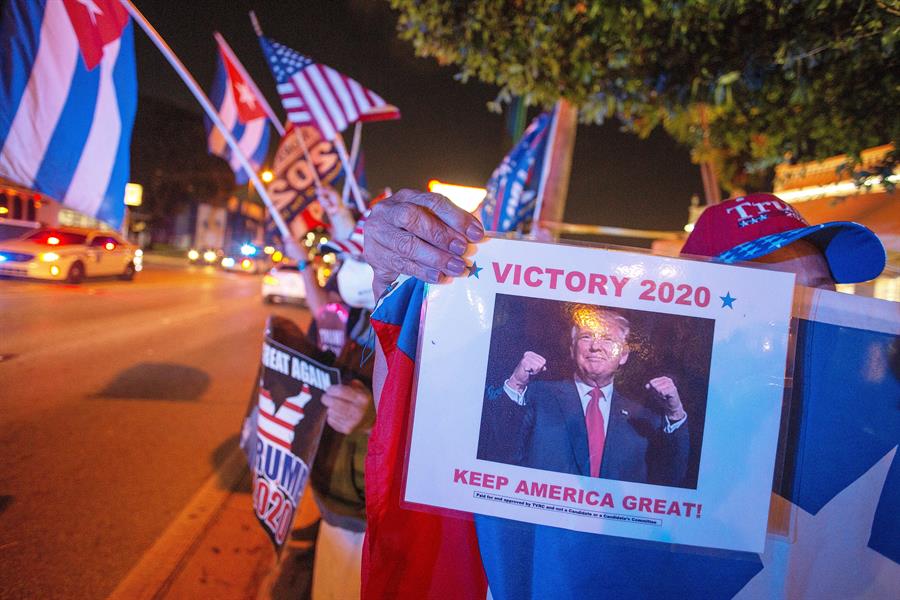 Spanish – The state of Florida supported Donald Trump in the presidential elections. With 96% of the votes counted, 51.2% of voters voted for the Republican candidate, compared to 47.9% who voted for Democrat Joe Biden, the Associated Press reported.
The state is characterized by the number of Latino voters, the majority of whom are Cuban, followed by Venezuelan voters. However, in Miami, where most of the Hispanic population is concentrated, the balance tipped in Biden's favor.
According to a report by ABC News, the Democratic candidate got 52% of the Hispanic vote, while 47% of Latinos voted for Trump. These numbers show a significant increase in the Hispanic vote for Trump, which was at 35% in the 2016 election.
Florida – representing 29 of the 270 electoral votes needed to win the presidency – was crucial in the last election. According to El Tiempo, the Hispanic vote has grown nine percentage points, from 11% at the beginning of the millennium to 20% in 2020.
According to a recent study by the Pew Center, in these elections, Hispanics represented 13.3% of the total number of people eligible to vote. This is double the number of people eligible to vote in 2000 when they represented only 7%.
Of that 13.3%, nearly half reside in California (7.8 million Latinos) and Texas (5.6 million).
Florida ranks third with 3.1 million Latino voters, Mark López, a researcher at the Pew Research Center, recently told the Voice of America.
Before the election, Latinos rallied in favor of Trump on the streets of Miami. There, Cuban exiles refused to be controlled by the left again.
"We don't want communism! We don't want communism," shouted the elderly of Cuban origin who lived through the beginning of Castro-communism.
A recent survey by Florida International University (FIU) showed that six out of ten Cuban Americans in Miami would vote for Trump. Another similar poll showed that seven out of ten Venezuelans in Florida were leaning toward the president, according to Infobae.