Español Anonymous Mexico have thrown their cyber-activism behind local and international demands for justice in the wake of the murder of Mexican photojournalist Rubén Espinosa.
On Saturday, August 8, at around 2 p.m. CDT, the loosely affiliated group of hackers took down a website of the Mexican Ministry of Communications and Transportation, called Mexico Connected (Mexico Conectado). Unabashed in their vandalism, they claimed responsibility under the Twitter handle @MexicanH.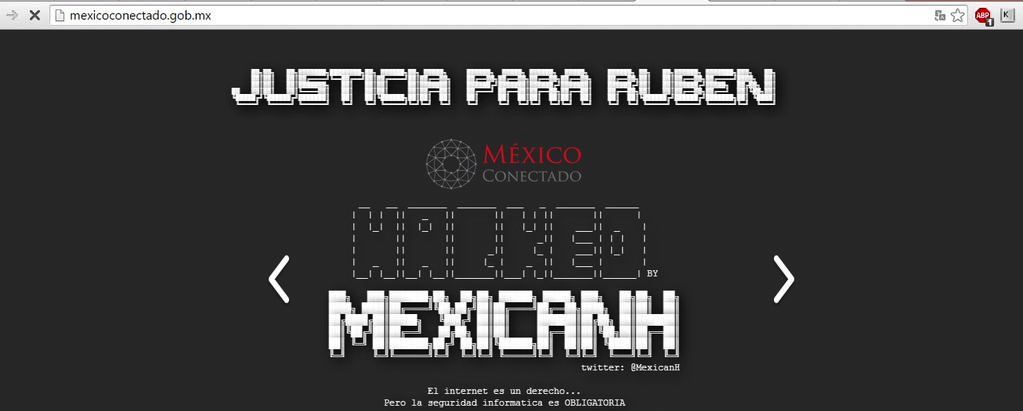 The self-proclaimed hacktivists changed the government website's display, which has since been re-established, to show a gray background and the message "Justice for Rubén."
Hours before the attack, at 7:08 a.m. CDT, the hacktivists sent a tweet that asked followers for their opinions on the government program, which attempts to ensure the right to subscription-free Internet access in public buildings and spaces within Mexico.
Following a 2013 telecommunications reform, the Mexican Constitution now recognizes Internet access as a human right. According to article 6, "the state shall guarantee the right of access to information and communication technologies, as well as broadcasting and telecommunication services, including broadband and Internet access."
However, in a later tweet, the hacktivists mocked the capacity of Mexican officials to secure even their own websites, let alone public-access Internet. They described public websites as "particularly vulnerable to all types of attacks."
Espinosa, a contributor to Proceso magazine, Cuartoscuro, and AVC news agency had fled the state of Veracruz in June, after suffering episodes of harassment and intimidation as a reporter.
He was found dead, along with activist Nadia Vera Pérez of #YoSoy132, a domestic employee, and Vera's two roommates in a Mexico City apartment on July 31.
The PanAm Post reported on August 6 that the chief suspect confirmed the involvement of two other people in the murder, although the circumstances and motives of the multi-homicide remain unknown.
Anonymous Goes After Impunity, Press Gagging
This is not the first time that Anonymous Mexico have hacked a government website or taken a stance on an issue related to freedom of expression.
On June 7, during midterm elections, the group hacked the website of the lower house of the Mexican Congress, to protest misappropriated election funding and impunity in the case of 43 missing students. They released close to 400 megabytes of information related to million-dollar contracts between the Mexican government and private companies from 2005 to 2010.
The data featured contracts, such as one for US$1.5 million with Microsoft and another for US$1.1 million with MetLife, as reported in Proceso. 
On March 16, the group also hacked into DISH Digital's website to protest the firing of CNN anchor and journalist Carmen Aristegui from Noticias MVS. They had terminated her contract after she demanded two reporters from her investigative staff be reinstated.
Noticias MVS, owner of the DISH website, had fired the reporters for using the radio agency's name in the launching of Mexicoleaks, an independent platform for whistleblowers to share information and increase transparency in Mexico.