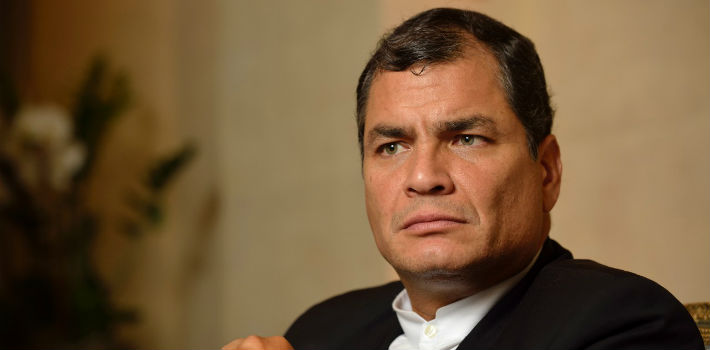 EspañolOn July 21, Human Rights Watch (HRW) released a report regarding unjustified delays in Ecuadorian courts, particularly related to appeals made by protesters convicted for participating in anti-government demonstrations.
According to HRW, Ecuador's most recent penal code, adopted in 2014, clarifies the ambiguous definitions that the crimes of "terrorism" and "sabotage" had under previous legislation. The NGO contends that under the previous law, the government criminally prosecuted several people without any justification, including the "Luluncoto 10", Pepe Acacho, and Mery Zamora, among others.
The organization notes that judges in these cases did not promptly comply with the favorability principle in Ecuadorian law, which states that judges should "apply the most favorable law." This has forced defendants to spend several months waiting for their sentences to be reviewed, without a set court date.
HRW argues political pressure is responsible for these delays, since several government authorities, including President Correa, have openly spoken out in favor of the original convictions.
Meanwhile, Correa has responded to HRW's report with fierce criticism, calling it "embarrassing" and branding the NGO as "another opposition party" that "hates all leftist governments." In the same vein, the chairman of the judiciary, Gustavo Jalkh, called the report "a lie." He says the organization is skewed politically, adding that no one has given the NGO the authority to "judge the judges."
A representative of Human Rights Watch, who asked to remain anonymous, spoke with the PanAm Post to provide more details about their investigation.
Did you come to Ecuador for this research? Were you able to talk with government representatives?
Yes, researchers from Human Rights Watch traveled to Ecuador twice to document the cases; first in October 2015, and then in March 2015. We interviewed the victims and their lawyers.
We did not talk directly with authorities, but reviewed official information from all cases. We have copies of the files, transcripts of the hearings.… In this case, there is no direct official to speak with, because we are talking about court decisions. So, what we did was to evaluate the judicial files in each of these cases.
How has the Ecuadorian government responded?
Basically, the answer is that we are uninformed, that we have a political agenda, and that we do not rely on facts. Their criticism is not based on the merits [of the report]. It's not based on whether what we say about these cases is right or wrong, or if our legal analysis is mistaken. They attack the messenger, not the message.
The reaction has been to say that we don't have legitimacy to talk about judicial matters in Ecuador, since in Ecuador "they do not harass people, they prosecute crimes." [Gustavo] Jalkh has commented the most on this. He said that everything was a lie, that the Ecuadorian judiciary has been modernized, and that they are applying the [favorability] principle as they should.
However, that actually reinforces what we argued in our report; that there is no legal reason to delay the hearings of these cases. And senior government officials, including the president himself, has explicitly argued in favor of these convictions. That is what suggests to us that there is a particular interest in upholding these sentences.
Could this also be evidenced by the period of time between the statements from officials and how these cases are resolved?
That is something that has to do with a more structural issue of how justice works in Ecuador. In practice, it is very difficult for the judges to rule against the interests of the government, because the Judicial Council, led by Jalkh, is made up of former officials of Correa's government, and they have the power to remove judges.
Therefore, there is a structural problem that encourages the lack of judicial independence. In that context, the president and senior officials comment in favor of these cases, which should have never happened in the first place.
What we are saying is that there is now a legal instrument for this to be reversed in Ecuador, but it still isn't happening.
Do you believe President Correa controls the judiciary in Ecuador?
Like I said, it's a structural issue. You have a Judicial Council that is comprised of only former Correa officials, and with the power to remove judges.
In that system, it is very difficult to have judges who dare to take action against the government's interests in cases that are so emblematic, such as those having to do with 30-S [September 30, 2010], that are very sensitive for President Correa.
Is HRW concerned about any other issues in Ecuador?
There are two very important issues that we follow closely in Ecuador. First, the restrictions on freedom of expression, especially with the Communications Law, and how the government is implementing processes and convictions against journalists and media workers using this law, which we have strongly criticized already.
Another issue is freedom of association. We have criticized Decree 16, which regulates the work of NGOs, and also strongly criticized the forced closure of the Pachamama Foundation.