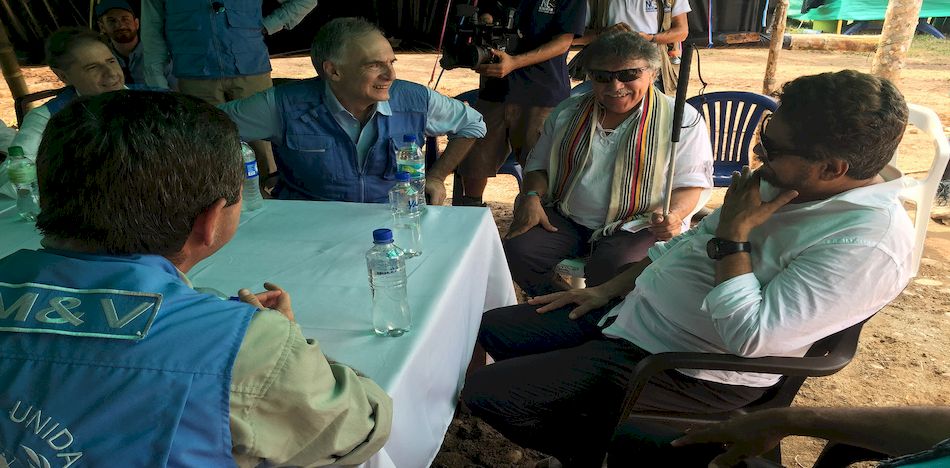 EspañolMore than US $13.5 million has been given to former members of Colombia's Revolutionary Armed Forces guerrilla group, or FARC, according to the country's Agency for Reincorporation and Standardization.
The agency's Director General Joshua Mitrotti said this week that more than 10,000 members of the FARC received the money since August, while 4,888 former guerrillas have begun using the state pension insurer Colpensiones.
After the FARC surrendered its arms on August 16, various mechanisms were put in place to ensure the process went smoothly and transitioned the insurgent military group back into society, as well as into a political movement. One of those mechanisms was the National Council of Reincorporation, which consists of two FARC delegates and two from the government.
The institution is part of Colombia's post-conflict cabinet, which has approved 12,014 people through the Office of the High Commissioner of Peace and given 10,172 of them government benefits. Yet the country continues to struggle with a disarmament that would qualify as a "post"-conflict effort, as President Juan Manuel Santos' adminsitration recently announced a six-month extension to look for 277 missing FARC weapon caches.
The FARC had originally put down its weapons on July 1 — what has been called "D-Day" — but 180 more weapons caches were discovered and handed in on September 1, and even more on September 15. The latest expansion, officials said, should lead to an additional wave of weapon surrenders in April 2018, following the country' legislative elections.
Mitrotti was emphatic in pointing out that the government is complying with the basic income agreement it made during talks in  Havana, Cuba. It involves 90 percent of a minimum wage income over the course of 24 months for people who have no contractual relationship. Since August, the government has paid three months of wages. It paid 10,110 people the first time, 9,980 in the second and 9,888 in the third.
But the government wasn't able to pay every FARC member, Mitrotti said, because some are incarcerated or have already found a job.
"In every instance of international crimes and crimes against humanity, the suspects have not received any benefit from the Colombian state," Attorney General Néstor Humberto Martínez said. "On the contrary, they will be subject to the Special Peace Jurisdiction. But while they conduct their investigations, someone has to act as prosecutor."
However, Martínez's reported failure to move forward with the investigations could lead to the International Criminal Courts' involvement.
"We consider that, though the Prosecutor's Office has to transfer all these reports to the Special Peace Jurisdiction, it has to continue the investigations and has to continue practicing testimonies, interrogation, interviews and collecting evidence,"Martinez said. "Otherwise the situation in Colombia could escalate to a loss of jurisdiction over these serious crimes, causing intervention by the International Criminal Court."