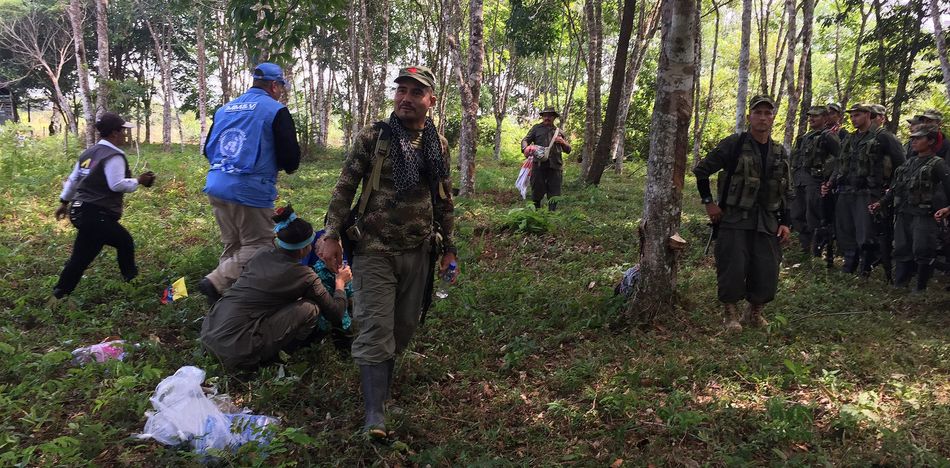 Español A new video revealed a FARC guerrilla faction that is still very active in Colombia — the Oliver Sinisterra, which recently said the majority of rebels disapprove of the deal made between the Revolutionary Armed Forces and President Juan Manuel Santos' administration last year.
In its first media interview, dissidents from a FARC regiment said that they had nothing to do with the events in the Tindal village of Tumaco, Nariño, where at least six people were killed and 23 more were injured.
The guerrilla commander denied that they had thrown cylinder bombs or fired rifles at the public or common citizens who were protesting against the eradication of illicit crops at the time.
https://twitter.com/javieroliverct/status/917491488677924866
These are the heavily armed terrorist "dissidents" or remaining @FARC_EPueblo according to @mindefensa they have taken the townsfolk of Tumaco hostage and are forcing them to fight against public forces. 
"We did not throw cylinders bombs at the police or the community. Where is the evidence that we have?" Fabian told the guerrilla leader. "All media sources say that they were shot. Where are the remaining shards from these supposed cylinders?"
He added that they were not at the scene when the tragedy happened. They also said they were not dissidents of the FARC, but rather one of the active fronts called Oliver Sinisterra.
Additionally, the guerrilla leader explained the reasons for why they don't accept the ongoing peace process.
"We didn't welcome the peace process because there are select commanders on the country roads who are the only ones receiving the benefits," he explained. "Most of the guerrillas are still in the jungle on different fronts, still fighting for the cause."
After the controversy as to whether or not alias 'Guacho' has allegiance to the FARC, he confirmed for RCN that he was in the transition zone in El Playón, and that he had returned to the insurgency because the benefits of the peace process only go to the high command of the guerrilla.
"We did not welcome the peace process," he said. "It was not because we did not agree, but there was inequality for the middle-rank guerrillas and the troops. There is no equality for all, only the high-ranking guerrilla leaders will benefit."
https://twitter.com/javieroliverct/status/917967608179195905
"Right now, we have 250 armed units not counting the outside militia," he said. "We are not dissidents. We are on the front lines of Oliver Sinisterra, which means we are not dissidents, we are active guerrillas," 'Guacho' said.
Source: RCN Noticias.