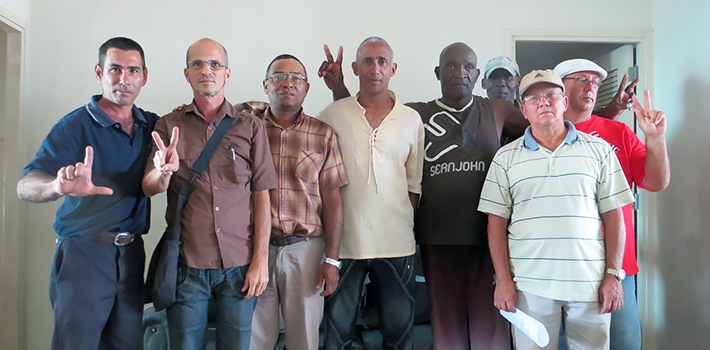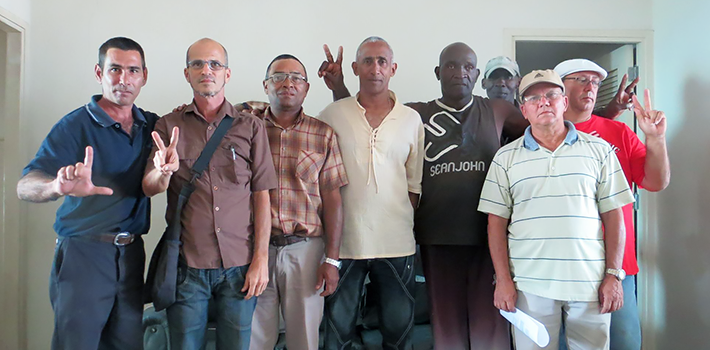 EspañolNelson Chartrand and Joisy García run the Anarcho-Capitalist Club of Cuba. With eight other members, they are focused on promoting the radical ideas of the philosophy on the island — a place where, as they describe, "everything is illegal."
This is no easy task. Capitalism could not be further from the Cuban reality — private property is expressly forbidden as an individual right — and the totalitarian nature of the Fidelista state means anarchism is even more distant.
The Cuban regime's decades of economic confinement have been bad enough, but repression of thought is also ever present, and it is only getting worse. The Inter-American Commission on Human Rights has blacklisted Cuba for "the level of threats, harassment, and acts of repudiation against human rights defenders in Cuba … particularly those involved in the defense of the rights of persons who have been deprived of liberty for political reasons," among many other crimes (PDF, section 138).
However, the anarcho-capitalists haven't given up after facing threats and aggression.
Chartrand can only access the internet once per week, through a connection provided by an embassy in Havana, but he graciously shared some of his precious online time with the PanAm Post and our readers.
What was the genesis of the Anarcho-Capitalist Club in Cuba? How did you find libertarian thought on an island where knowledge is so restricted? 
The birth of the Anarcho-Capitalist Club of Cuba came after Joisy García, a friend of mine, received a couple of videos from a friend who lives abroad. They were videos that contained lectures by Jesús Huerta de Soto, among others, and this made us think about and immerse ourselves in this political philosophy. As Huerta de Soto correctly points out, it is the system truly compatible with human nature.
I believe every human being is, in essence, an anarcho-capitalist; we all wish for liberty, progress, and happiness.
That was when Joisy García proposed to me the idea of a club, with the objective of giving life to a new perspective on humanity, and to a people so thirsty for freedom and happiness. And here we are.
What would be your immediate proposal for Cuba? Can the nation initiate a transition? 
Our immediate perspective is precisely that one, to introduce a new perspective of thought at a moment when, to the best of our knowledge, the regime is in crisis and must implement changes. While those changes are being directed by the "gods of power," there is a chance to set a path for the future.
A member of the club has already been detained. He was threatened that he must desist with the idea, but we continue on.
Transition in Cuba, as I said, is not voluntary, but forced. The regime can't hang on any longer; reality and truth are prevailing.
The "gods of power" are tired, and they want to leave a path prepared for their successors, who of course are not the majority of the Cuban people. That is why they passed the new Law of Foreign Investments, it is their bequeathal.
Are you classified as the opposition in Cuba, or just advocates of ideas? 
We are classified as the opposition, even though the goal of the club in this first stage is to introduce a new and alternative way of thinking.
How do you express and spread the ideas of liberty in Cuba? 
The club has an institute with a digital library, which through the Indpendent Libraries network in the country, we use to spread libertarian ideas.
We are organizing conferences about the Austrian school of economics, polycentric law, and other topics related to free-market anarchy.
What obstacles do you face?
We clearly have some barriers to overcome. A member of the club has already been detained. He was threatened that he must desist with the idea, but we continue on.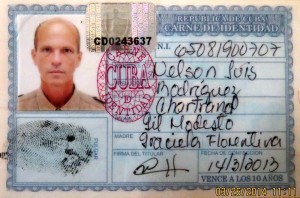 How many members do you have? 
Officially, there are 10 members of the Club.
Why do you post on your Facebook page the IDs of the members of the Club? 
We post the IDs for safety reasons. In other words, this turns us into public persons and forces the government to restrain any measure against us. This way the international community could help us before any injustice.
Would you be able to host an anarcho-capitalist conference in Cuba? 
As I said before, we have planned to organize conferences; we will see if they let us. It's very difficult, but we will try. Everything here is illegal.
Do you think Cubans would accept the ideas of liberty and behave respecting the rights of the rest? 
We Cubans have forgotten what it is to be free.
Of course Cubans could accept the ideas of liberty and honor the liberty of others. Now we have to educate them. We Cubans have forgotten what it is to be free.
Including the concept of private property? 
In Cuba, there is no private property. Self-employed workers are not private but quasi-private. The only private property that exists in Cuba is in hands of the ruling elite.
How widespread are black markets today in Cuba?
The Cuban people live in the black market. The government knows it, but they do nothing, because they fear social unrest. Intervention only comes when the situation impacts on their private interests.
Have you received any help from international organizations?
We have received help from the Mises Institute Hispano, which has provided a lot of digital content … other friends have helped us, for example, to launch Mises Cuba.