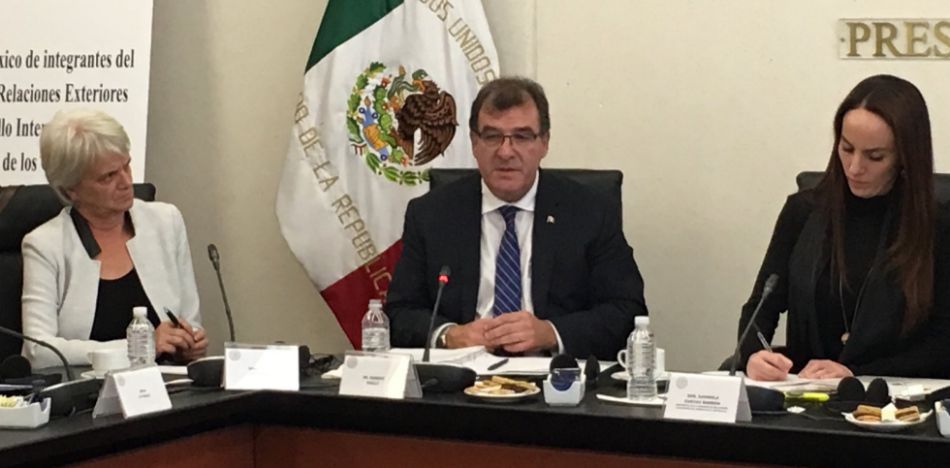 EspañolAn increasing number of officials are joining forces to preserve the North American Free Trade Agreement (NAFTA). On Monday, a delegation from Canada's Committee on Foreign Relations and International Development met with Mexican legislators in order to establish a common agenda for maintaining a trade agreement.
Canadians approached Mexico's Parliament with leadership from Robert D. Nault, a member of Canada's House of Commons, claiming they had a goal "to broaden the discussion on major issues such as NAFTA, as well as immigration, labor rights, the environment and to really be able to do more together."
"Our Mexico-Canada relationship is not just in response to US President Donald Trump," they said. "Our relationship goes far beyond our issues with the Trump administration."
"Tiene sentido modernizar el #TLCAN?????? ante los retos actuales en la región?" menciona @BobNaultMP?? en el @senadomexicano pic.twitter.com/UW1AKDLPuo

— CEI Gilberto Bosques (@CGBSenado) October 23, 2017
"We agree that we must move forward together, that we must remain at the table, that we have to make it so that this agreement be made in a way that is beneficial for both parties," President of Mexico's Commission on Foreign Relations, Victor Giordana (PRI), said.
Car factories shut down over NAFTA problems
It's becoming increasingly plausible that NAFTA will fall apart at the negotiation table, or at least be reduced to a bilateral agreement between Mexico and Canada. Fears surrounding this scenario have motivated politicians and business leaders to raise their voices and to work together to prevent it from happening.
On the business side, automakers have created a coalition with suppliers and dealerships with the intention of ensuring that no member-country withdraws from NAFTA.
The coalition includes representatives from General Motors, Toyota Motors, Volkswagen, Hyundai Motor, Ford Motor and other automakers, which call the effort "Driving American Jobs."
They intend to support attempts to convince the Trump administration to not withdraw from NAFTA, which has proven vital for the growth of production and jobs in the United States' automotive industry.
"We need to tell our elected officials that you don't change the rules in the middle of the game," the coalition said on its website. "With NAFTA, we are winning."
Officials in the Mexican government have stated that the situation won't be "the end of the world" for the Mexican economy, as they consider their country to be much bigger than NAFTA; however, the numbers presented by the private sector say otherwise.
Sources: Milenio, El Financiero