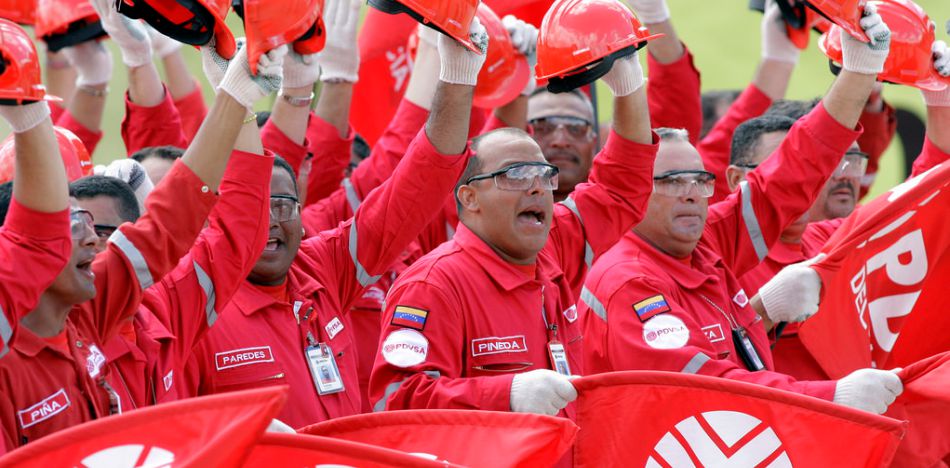 EspañolGoldman Sachs Group Inc. has purchased approximately US $2.8 billion in Venezuelan bonds held by the country's central bank. The company has has been called a "mouthpiece" for President Nicolás Maduro's dictatorial regime, which is struggling to raise funds amid growing civil unrest.
Last week, the asset management division of the New York-based bank paid US $0.31 cents — or about $865 million — for bonds issued by state-owned oil company Petróleos de Venezuela S.A. (PDVSA) in 2014, which are due in 2022, according to five people close to the transaction. This price represents a discount of 31 percent on Venezuelan securities.
The investment comes at a time in which Maduro's detractors are pushing hard to prevent foreign banks from conducting business with his regime, which has been accused by the United States and other countries of widespread human rights violations.
.
Maduro's growing authoritarianism, coupled with a critical shortage of food and medicine, have caused two months of near-constant demonstrations, which have resulted in approximately 60 deaths. The economy is also suffering, shrinking by 27 percent since 2013. The International Monetary Fund estimated that during this year alone, inflation will reach 720 percent.
According to sources close to the The Wall Street Journal, Goldman Sachs is betting that a change in government will bring back double the value on debt, trading at very discounted rates with yields of an estimated 30 percent thanks to fear of default.
One senior Venezuelan finance official confirmed the agreement, but declined to give further details. Goldman Sachs did not negotiate the deal, but rather bought the bonds through an anonymous broker, according to three sources.
Those who oppose this measure believe that participating in any financial deal would give much needed funding to Maduro, whose polls say he has the support of only one in five Venezuelans. The Venezuelan regime has "shelved" the general elections and is now organizing a revision of the constitution, which opposition leaders say will put an end to the few constitutional protections that Maduro's political opponents have.
"Goldman is on the wrong side of history with this agreement," said opposition lawmaker Angel Alvarado, a member of the Venezuelan congressional finance committee.
"This is a bad decision not only from an ethical point of view, but also from a business perspective," he said. Alvarado added that an opposition-led administration would refrain from doing business with Goldman, whose asset management business manages US $1.3 trillion.
PDVSA's 2022 bonds bought by Goldman last week had been, until recently, held by the Central Bank of Venezuela. The international reserves of the Central Bank of Venezuela jumped from US $442 million to US $10.8 billion on Thursday when the bond agreement was completed, according to official figures.
Source: The Wall Street Journal