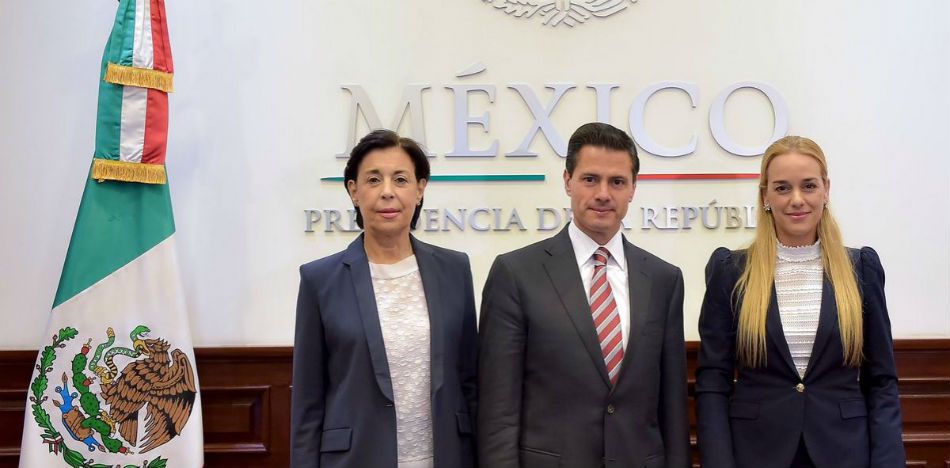 EspañolMexican President Enrique Peña Nieto visited with the wife and mother of Venezuela political prisoner Leopoldo López.
During the meeting in the President's official residence at Los Pinos, he committed to supporting a restoration of Venezuela's democracy.
"I met with Lilian Tintori to talk about the situation in Venezuela and confirm Mexico's position," Peña Nieto wrote on Twitter after the fact, adding: "We trust that, through an agreement between parties, Venezuelans will restore its democracy."
Tintori also said President Enrique Peña Nieto was committed to rescuing democracy for all Venezuelans.
In a later interview, she said Peña Nieto was very worried about the situation that Venezuela is going through and that he is planning to give instructions to Foreign Minister Luis Videgaray Caso to keep in constant communication with his Latin American counterparts with the intention of "rescuing the constitutional thread and democracy in Venezuela."
Ayer nos reunimos con @EPN en representación de los miles de venezolanos que están en las calles luchando en paz por la libertad. pic.twitter.com/hn0hiy7H9Z

— Lilian Tintori (@liliantintori) April 7, 2017
"Yesterday we met with @EPN in representation of thousands of Venezuelans on the street fighting for peace and freedom."
According to López's wife: "We Venezuelans want presidential elections this year, we want the freedom of all political prisoners. We are going to rescue the constitution and the National Assembly."
Antonieta Mendoza, Lopez's mother, was also received by the President of Mexico, and said the meeting went well.
"The president was very generous with his time," she said. "We went in at around a quarter before nine o'clock and left at 10:10 p.m., an hour and a half meeting … We had the opportunity to provide him with a very detailed report about the situation in Venezuela that the president was aware of, but perhaps we deepened his knowledge."
Source: Proceso