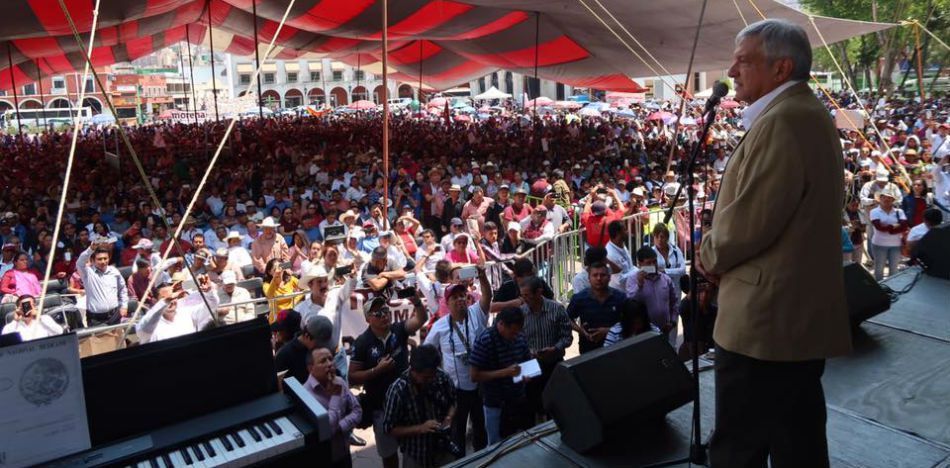 EspañolMexico's leading left-wing presidential candidate Andres Manuel Lopez Obrador wants a respectful, working relationship with the United States should he be elected, but also said it should keep its distance during elections.
Lopez Obrador, commonly referred to as AMLO, said he intends to work with the US primarily on private sector investment that will be fundamental for economic growth. But for now, while elections are going on, the country should only be an onlooker.
Last Sunday, the leader of the National Regeneration Movement Party — also known as Morena — met with his supporters to sign the Political Agreement for the Unity, Prosperity and Rebirth of Mexico, during which he asked the United States not to intervene in the 2018 electoral process.
"We must be clear when we tell the US government: we were respectful during the last election campaign," he said. "We expect the same. Do not intervene in matters that only concern Mexicans."
He accused presidential pre-candidate Margarita Zavala, who traveled to the United States to hold a meeting with Republican Senator John McCain, of attempting to gain favor with US officials.
"A few days ago, the Secretary of Security of the United States declared that if the left won in Mexico, that would not be good for his country, as it is known that on some occasions, what is bad for them is good for us,"AMLO said.
He said his political party will provide priority assistance to the poor, but will also serve the middle class as well as small and medium-sized entrepreneurs. He also promised not to increase taxes.
Last week, Governor of the Central Bank of Mexico Agustín Carstens said Mexican finances are not ready to increase spending or reestablish subsidies.
"We are going to invite investors to participate," AMLO said in response. "We cannot promote Mexico's development with public investment. We will invite private investment as seed capital, like when I was head of Mexico City's government."
Source: El Universal