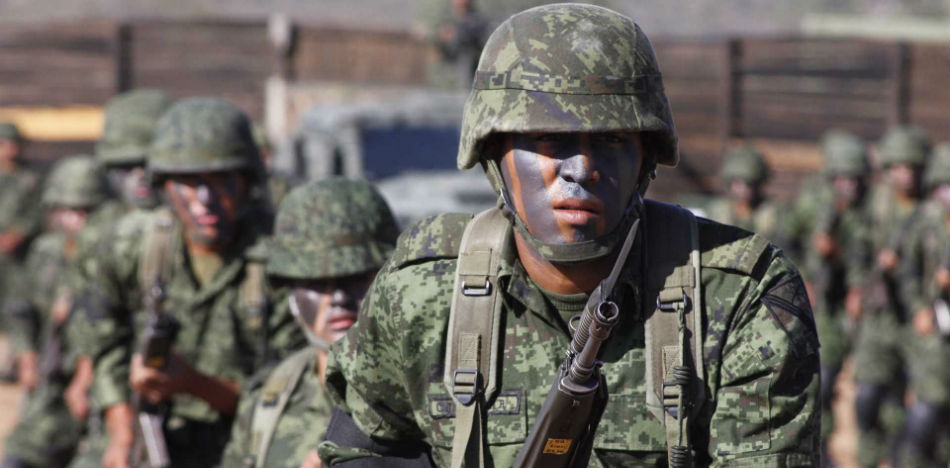 EspañolOfficials from various political parties in Mexico are urging congress to approve an interior security law that would regulate the army while it is carrying out enforcement on the streets.
Both lawmakers and specialists said that keeping the military on the streets "depletes" the army.
At one point, the Secretary of National Defense was one of the most trusted institutions in Mexico, but it has reportedly lost 30 percent of its approval over the last 10 years.
"It's clear they did not ask them to take to the streets to carry out public security," said Democratic Revolution Party Congressman Waldo Fernández. "It was by necessity and in response to the circumstances of the moment. The armed forces need a legal framework for action."
Academic at the Center for Economic Research and Teaching Ximena Medellín said she is against the Mexican army carrying out police tactics on the streets, saying that over the last 10 years there has been no evidence indicating crime has diminished for what she considers to be "failed policy."
She said the measure not only affects citizens, but also the armed forces itself, which has experienced increasing institutional, technical and operational tension, making it lose the relevance it should have.
Congressional Coordinator Cérsar Camacho of the Institutional Revolution Party and Congresswoman Martha Tamayo presented a new law that will serve as the basis for addressing this issue in the Mexican Parliament and could even see approval from the federal government.

"The Mexican army, on account of its discipline, organization and availability, has been for many years the principal resource the nation has had for confronting and containing different security challenges each time they present themselves to the nation," Tamayo said. "Both in support of disasters and in fighting organized crime."
This legislative initiative aims to create a declaration of protection for internal security and to regulate government intervention in this area.
"It gaurentees the Mexican people a judicial framework that responds effectively to interior security threats, from an updated and comprehensive perspective that allows them to face new challenges," the official said.
Source: El Universal