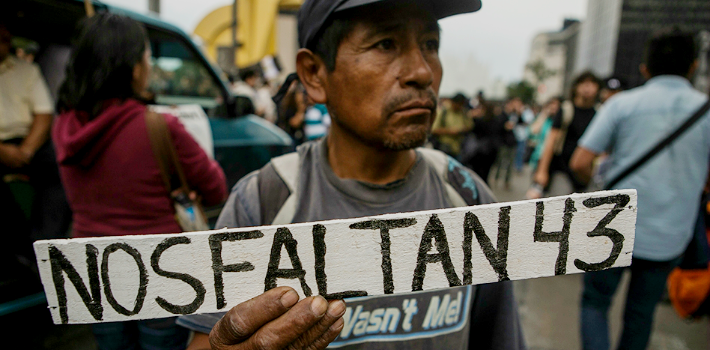 EspañolMonday marked the two-year anniversary of the disappearance of 43 students in Ayotzinapa, Mexico, prompting authorities to make an assessment of the research and results obtained in that time.
The National Human Rights Commission (CNDH) said the case is still pending. Though investigations made by the Attorney General's Office show progress, conclusive results are still not done — the most important being the whereabouts of the normalistas.
"For the commission, the priority is that the true facts are known," Mexican authorities said in a statement. "The rights of victims to be recovered and the necessary actions to prevent further damages committed are being taken."
The Commission noted in the statement that it made a total of 57 comments and proposals to the Attorney General's Office (PGR), the Executive Committee for Victims (CEAV), the Attorney General and the Municipality of Iguala, Guerrero.
However, only eight of the 57 recommendations were considered as "Fully Addressed" while 33 were "on the way to being attended" and 16 have a status of "Unattended," as of September 22.
Investigating the Guerrero killings
The Commission requested comprehensive reparations Monday and research into the case of military officials that "performed arbitrary executions to the detriment of six people" in 2012. Two of them were reportedly minors.
The Commission addressed the recommendation to Salvador Cienfuegos Zepeda, who is the head of the Secretariat of National Defense (SEDENA).
"After concluding its investigations, the national agency found evidence confirming that such actions violated human rights to freedom, integrity and personal safety," the statement said of the NHRC. "Also violated were the rights to inviolability of the home, life and access to justice for the six people executed."
The agency asked that there be an investigation into the crimes against military personnel as well as into the the placement of firearms during the crime scene investigation, which could to determine which federal officers were involved and which weapons were used.
Source: Animal Político