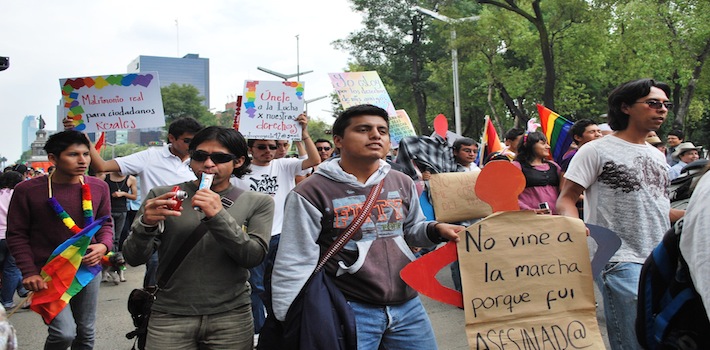 EspañolMexicans took to the streets across the country this weekend to defend their beliefs regarding gay marriage — both for and against.
On the one hand, the National Family Front marched for traditional family values while gay communities organized in favor of their right to marriage and to adoption.
Nineteen states saw thousands of people from various religious organizations come out to support traditional family values and to speak out agains the policies that President Enrique Peña Nieto has put forward, including progressive sex-ed in public schools that discusses gender identity.
The states of Jalisco, Querétaro, Chihuahua, Yucatán, Guanajuato and Baja California registered the highest influx of people for an abortion rally in recent memory. They also advocated for banning sexual education in schools as well as the adoption of minors by gay couples.

https://twitter.com/idaniadp/status/774746728893329408
Nearly 4,000 people attened the call made by the National Family Front in Atlacomulco, and in Toluca nearly 2,500 people came out. In Naucalpan, nearly 1,000 people rallied against gay rights in the city center.
The gay community, meanwhile, brought together by various organizations, also took to the streets in Mexico this weekend, but to defend their rights to legally form a family, and as a form of rejection of the statements made by Cardinal Norberto Rivera Carrera that they claimed incited hate.
Their motto was "We are all family" which was also turned into a social media trend picked up by artists and other supporting members of the community. Children and heterosexuals reportedly participated in the march as well.
Imagen del día con mensaje para el Frente Nacional por la Familia. #TodosSomosFamilia pic.twitter.com/eXyUCDKxh1

— Denise Dresser (@DeniseDresserG) September 9, 2016
In Mexico City, the march arrived to the Metropolitan Cathedral, where members of the crowd read out a letter addressed to Pope Francis requiring the removal of Archbishop of Mexico Norberto Rivera Carrera for stirring hatred between the gay community and the church.
Source: La Jornada, Proceso