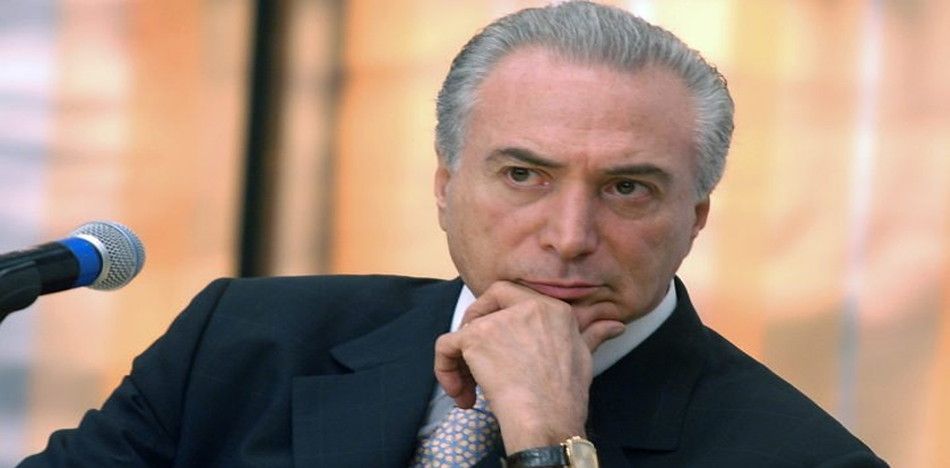 By Yigal Chazan
Brazil's embattled President Michel Temer is facing arguably the toughest challenge of his presidency as he seeks to pull Latin America's biggest economy out of its worst recession in a century.
The 76-year-old former vice president is attempting to overcome resistance to deeply unpopular labor and social security reforms as corruption allegations implicate members of his cabinet. Temer, whose popularity has fallen significantly in recent months, is in the process of slashing public expenditure and introducing business-friendly measures to bolster the economy and attract foreign investors.
Temer assumed the presidency in August after the impeachment of his predecessor Dilma Rousseff for breaking budgetary rules. He and his centre-right governing coalition have sought to overturn years of economic indiscipline by the former ruling left-wing Workers' Party that has left the country with a swollen budget deficit, now standing at 9.2% of GDP.
The deficit contributed to Brazil losing its investment grade credit rating in 2015, but investor confidence was raised last year as Temer's reformist policies began to unfold.  Notably, Congress approved a measure limiting the growth of public expenditure to the rate of inflation for 20 years, and in January the President signalled his intention to propose legislation lifting restrictions on foreign ownership of agricultural land and domestic airlines.
He is now forging ahead with plans to liberalise the country's restrictive employment laws and to cut back its pension system – one of the most generous in the world – that accounts for nearly half of government spending.   Yet with Brazil still beset with high unemployment, standing at over 13 per cent, and the economy only expected to return to growth later this year, many Brazilians believe the country is heading in the wrong direction. Just 9% feel that he is doing a good job – even Rousseff's approval rating was higher when she was ousted. Public anger over the latest reforms culminated in late April with a national strike – the first in over 20 years.
The labour reforms, which investors see as key to lowering operating costs, was passed in the lower house of Congress last month and will now go to the Senate. The proposed law would extend temporary contracts, make part-time work more flexible, free collective bargaining from some labour code rules and introduce conditions likely to discourage workers from suing employers.  Unions are bitterly opposed to the reform, particularly as it abolishes mandatory union membership payments. They will probably keep up the pressure as the bill moves through the legislature.
The most contested Temer reform is the overhaul of the social security system, which currently allows workers to retire in their early-to-mid 50s. It cleared its first parliamentary hurdle in earlier this month. A  Congressional committee approved a constitutional amendment that would increase the pension age and reduce benefits. In advance of the vote, Temer had felt compelled to make concessions: lowering the proposed minimum retirement age of 65 by three years for women, teachers, police and rural workers; and easing workers' transition to the new system.
Yet even with the concessions, which the finance ministry believes could limit the impact of the reforms by 25 per cent over ten years, the government has postponed a vote in the lower house of Congress. It wants more time to garner the two-thirds majority needed for the bill's approval, which will require the backing of Congressmen nervous of angering voters with elections just around the corner.
But Temer is not just facing political resistance to his reform plans. New revelations in the long-running Petrobras corruption scandal, in which companies allegedly bribed politicians to secure deals with the state-owned oil company, threaten to stymie the government. In April Supreme Court judge Edson Fachin revealed the names of dozens of politicians to be investigated over possible involvement in the affair, with almost a third of those implicated being members of Temer's cabinet.  Temer is also alleged to have been present in a meeting where illegal campaign donations were discussed. The President, who cannot be prosecuted for alleged crimes committed before taking office, has dismissed the claims. All those named by Fachin also deny wrongdoing.
While, for now, the corruption allegations seem unlikely to spark the mass public protests that led to the toppling of Rousseff, Temer and his cabinet may find their room to manouver constrained if the investigations turn into indictments. With such a big caseload, however, it could take months before the Supreme Court issues any charges.
While Temer has said he will dismiss cabinet ministers if they are indicted, he is determined to introduce his austerity measures before his term ends in December next year. He says he will not seek re-election, and appears prepared to weather the fallout from the latest chapter in the graft scandal and his painful reforms in order to haul Brazil out of its economic doldrums.
Fortunately for Temer, investors appear to have kept faith in him and the economy is showing signs of recovery. Foreign direct investment last year, at USD $78.9 billion, was 6 per cent up from 2015. This year Chinese companies alone are expected to invest USD $20 billion in purchasing Brazilian assets, up nearly 70% from 2016. A surge in exports, driven by rising commodity prices, has led to a record trade surplus of over $21 billion for the period January to April. Also last month, inflation fell below the government's target of 4.5% for the first time since 2010.
The good economic news will raise hopes that the recession will come to an end this year. Temer will feel vindicated if it does, but whether Brazilians will thank him for it is another matter.
Yigal Chazan is an associate at Alaco, a London-based business intelligence consultancy