US Secretary of State John Kerry, in opening remarks, placed his focus on the "incredible story" of Colombia's "transformation" and, when questioned, limited the NSA rift to a "small part" of the dialogue between Washington and Bogotá.
Colombia and Brazil — the only stops on Kerry's first official visit to South America — were affronted by news leaked last month that the US National Security Agency (NSA) had targeted the region in a major surveillance operation. The Rio de Janeiro-based O Globo newspaper reported that special focus had been placed on Brazil, Mexico, Venezuela, and Colombia, based on disclosures from fugitive NSA former contractor Edward Snowden.
Shortly thereafter Colombia released a statement rejecting "all acts of espionage that violate the privacy rights of individuals and international telecommunications conventions."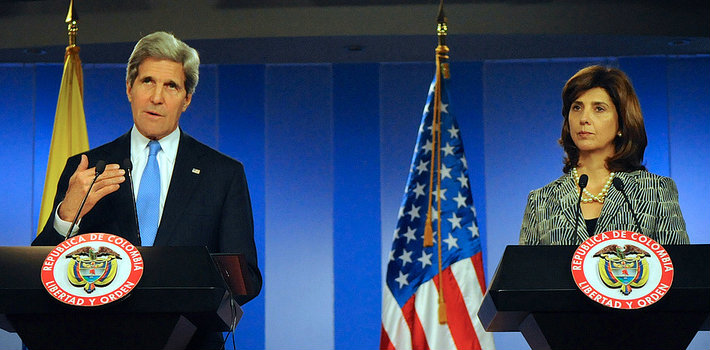 "Frankly, we work on a huge number of issues and this was, in fact, a very small part of the overall conversation," Kerry said during Monday's press conference following a meeting with Colombian President Juan Manuel Santos and Foreign Minister María Ángela Holguín.
"I am confident that I was able to explain thoroughly [and] precisely how this has received the support of all three branches of our government, it has been completely conducted under our Constitution and the law," he emphasized.
Kerry insisted that the United States had respected the affairs of other countries and would continue to do so. He added, "it's very obvious to everybody that this is a dangerous world we're living in. It's very, very different from anything we've known since . . . September 11th of 2001. And we are necessarily engaged in a very complex effort to prevent terrorists from taking innocent lives in many different places."
Holguín confirmed, "we did touch on this subject" and that cooperation between the two countries since this news became public has been very important. She said that Colombian officials had travelled to Washington D.C. and have received positive feedback concerning the issue.
"All the assistance in this respect has been relevant, to say the least, and we hope that this will be done within the framework of bilateral and legal conditions." She noted that Colombia has received the necessary assurances in order to continue to work on this.
In her opening statement, Holguín acknowledged US support "received throughout recent years in our struggle to achieve peace, in strengthening the military … and the work done to have the conditions of security that Colombia has nowadays."
Kerry stressed, beginning with Plan Colombia, that the United States stands with the people of Colombia. The Santos Administration, he said, has embarked on a courageous, necessary, and imaginative effort towards a political solution to one of the world's longest conflicts.
"Any negotiation that can help to strengthen Colombia's democracy, that promotes respect for rule of law and human rights, and achieves an enduring peace" the United States, he said, would support.
However, regarding whether there was a budget for this or for the post-conflict situation, Kerry answered, "No, there is not a specific delineated set of figures with respect to a budget because there is not yet a specific agreement around which to build that plan."
Colombia's peace talks with the Fuerzas Armadas Revolucionarias de Colombia (FARC) in Cuba began last year, hoping to end five decades of bloody conflict with the guerillas. Bogota's chief negotiator, former vice president Humberto de Calle, expressed cautious optimism last week after a joint statement — following the twelfth round of talks — that concrete proposals were on the table.
Kerry reminded that peace negotiations are "underway" and that these must be handled by Colombia. Santos has a capable and experienced team whom "I had the privilege of meeting this morning," he said.
The US top diplomat's next stop is Brazil where Washington's explanations over the NSA activities were branded "insufficient."  Brazil sent its foreign minister, Antonio Patriota, along with counterparts from Venezuela, Bolivia, Argentina, and Uruguay, to meet last week with UN Secretary General Ban Ki-moon to protest the reported surveillance.
Source: US Department of State. Read More »