EspañolThe Cuban political police have finally released graffiti artist Danilo "El Sexto" Maldonado Machado, after holding him for 10 months in prison without trial.
Cuban authorities arrested the rebellious artist in December 2014, as he prepared for a performance with two piglets he called "Raúl" and "Fidel."
Accused of contempt, the artist and activist embarked on two hunger strikes after the government falsely informed him that he would be released in August.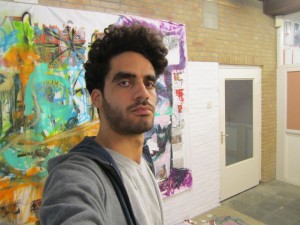 International organizations such as Human Rights Watch and Amnesty International demanded his release and labeled him a "prisoner of conscience." The Human Rights Foundation awarded him the 2015 Václav Havel Prize for Creative Dissent.
The PanAm Post spoke with his mother, María Victoria Machado González, two days after her son was released.
How is your son's health?
Well, he is a bit nervous now. It's normal; it's only his second day of freedom. He's now at [an] embassy, checking his email, Facebook, and catching up with all of his friends that were worried about his situation and his release. He left early in the morning and he hasn't come back yet.
How do you feel as a mother? 
I'm very happy that he is back on the streets, and I am more and more convinced that he was unjustly detained. He was released without a single charge filed, or even a fine.
How long was he awaiting trial?

Since December; on Sunday [October 25], he would have completed his 10th month in prison without trial. A prison official told me that [my son] had served his sentence. "What sentence?" I asked him, but he didn't reply. Now he's been released; it was pure politics.
Why did they detain him?
They didn't provide an explanation. An officer simply told me that art should have limits.
[adrotate group="8″]
What do you think about that? 
I think art shouldn't have limits, otherwise [Francisco] Goya wouldn't have painted the Nude Maja. They held him there, because that's what they wanted. They wanted to punish him, because they don't understand anything about art, humor, or the way artists express themselves. My son has never even held a gun.
Are you proud of him?
Yes, I'm proud of him. I didn't want to be persecuted in my own country. I don't agree with my son's ideas, but faced with so much injustice, my family completely supports him.
We have realized that injustice is all around us, and everything is a lie. "Yes, sir. No, sir." That's what you have to say around here.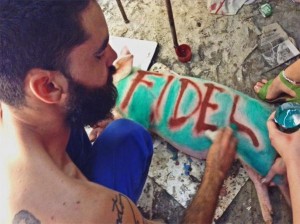 Do you think the timing of your son's release had anything to do with the renewed relations with the United States, or the recent reports about Cuban troops in Syria?

Not at all, but it wasn't a coincidence either. There was huge international pressure [to release him]. Amnesty International deemed him a "prisoner of conscience."
How can people overseas help political prisoners in Cuba?
They can do what they [Amnesty] did, and organize large international campaigns. Danilo won a prize in Norway. The international artist community attracted some 25 to 30 journalists. They were following the issue, and the street was full of journalists. More than 37 of them called him to greet him and ask him for an interview.
What conditions was your son kept in while in prison?

Prison conditions are not good anywhere in the world, but in the third world, they are the worst. We had to bring Danilo everything. He was only given one opportunity per day to shower or use the bathroom.
At one point, they deprived him of water for 72 hours. When he protested the situation, they threatened to sentence him to five years in prison. Prison was hard for him.
Will your son seek asylum in the United States?
He hasn't gone to the embassy yet. The embassy got in touch with him, and invited him to visit. He has paintings in the United States, and he studied there and has many friends.
I don't really know [his future plans], because he has a pending interview at the embassy. Right now, he is like a bird flying with no direction.