In stark contrast with the first round of presidential, legislative, and mayoral elections, Haiti held the final round on October 25 without any major disruptions.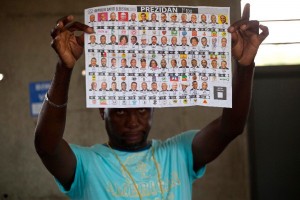 However, election officials have pleaded for calm and patience, as the public will have to wait at least 10 days before the government announces the results.
Provisional Electoral Council President Pierre-Louis Opont attributed the delay to the lengthy travel time of ballots arriving from rural areas, where transportation infrastructure is poor. In addition, the number of candidates involved in the election process, approximately 6,000, makes tallying the votes more complex.
The waiting time will test Haiti's resolve for peaceful, democratic elections. During the preliminary round on August 9, the government suspended 13 percent of polling stations due to voting irregularities, such as voter intimidation and armed violence.
No major violations occurred on Sunday due to an increased presence of Haitian police and better cooperation with the United Nations Stabilization Mission.
On Sunday night, at least four of the 54 presidential candidates declared victory or a spot in the presidential runoff scheduled for December 27. Yet, polls suggest Jovenel Moïse (Haitian Party of Bald Heads) and Jude Célestin (Alternative League for Progress and Emancipation of Haiti) are the frontrunners to succeed President Michel Martelly next February.
Moïse, whose party is named after his smoothly shaven head, is the owner of a banana-exporting business in northern Haiti, while Célestin is the former head of a government construction agency.
In 2011, a year after the catastrophic earthquake that left more than 200,000 dead, Haiti elected pop singer Michel Martelly as president in an attempt to stop corruption and ease political stalemate. However, Martelly failed to capitalize on his popularity while in office.
More than half of the Caribbean nation's 10 million citizens registered to vote in what could be a historic third consecutive democratic election without fraud or armed violence. After 30 years under the dictatorship of the Duvalier family, between 1957 and 1986, the nation has been plagued by a mix of military coups, election fraud, and government corruption.
Sources: Reuters, Miami Herald.