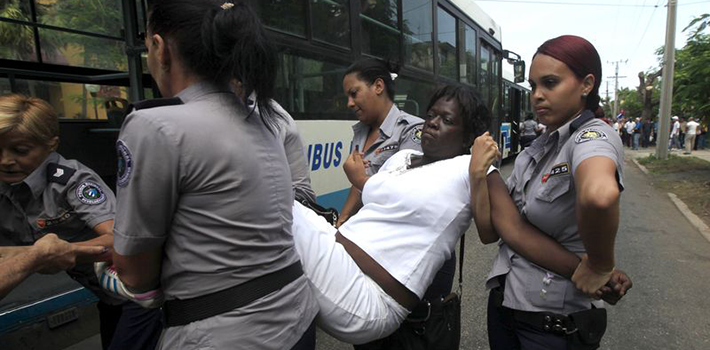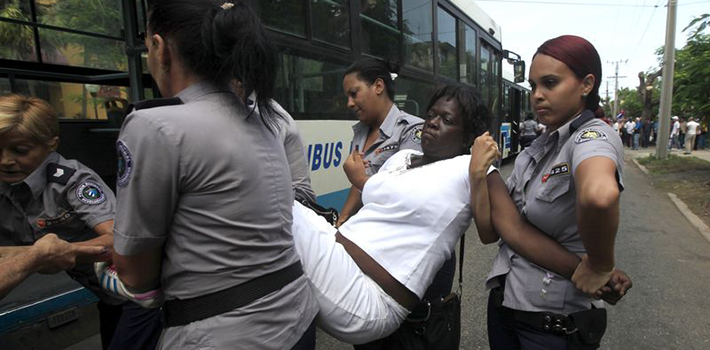 EspañolJust six days before the arrival of Pope Francis in Cuba, the island's police arrested 50 Ladies in White and other human-rights activists, to make it 22nd consecutive Sunday of detentions and beatings.
Berta Soler, leader of the Ladies in White, explained to the PanAm Post the catch-and-release process of intimidation, and that all captives were out of jail by Monday night.
The regime's officers arrested the women, who every Sunday gather to demand the release of political prisoners, and dragged them away as they sat in protest.
"This time we sat on the floor in peaceful resistance because if we stand up, they beat us," Soler said.
Cuban security forces seized them, hauling them from their legs and even their hair.
"We were brutally thrown into buses, trucks, and patrol cars that had arrived to neutralize the marches," explained Soler, who sat in jail for over five hours on Sunday.
She also reported that one of the women had her wrist broken, but the Cuban hospital refused to give her a medical certificate.
No Mercy for Political Prisoners
Last Friday, headlines across the world reported that the Castro regime had decided to pardon over 3,500 prisoners ahead of the pope's visit. However, none of them are political prisoners, according to Soler.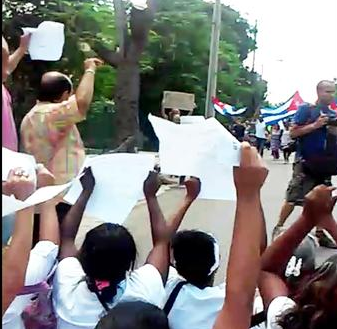 "Cuba needs a change but the pope is not a liberator, nor will he change Cuba," she warned.
The dissident group are trying to secure a private audience with the head of the Catholic Church, but they haven't received a response yet.
"We want the pope to abide by the [Church's] social doctrine and protect the elderly and the suffering. We are part of them, as well as the political prisoners," she added.
Rather than relief, Soler thinks that the arrival of Pope Francis will increase the embolden the Cuban government's repression.
"We are part of his flock and we are suffering. We suffer when we walk into the church, when we leave mass, and we suffer when Cardinal Jaime Ortega remains silent [on the issue of political prisoners]."
In 2012, the Castro regime set conditions for Pope Benedict XVI's visit, and they could not meet him. Soler believes that if Francis gives in as his predecessor did, they will probably be unable to reach the pontiff.
An Open Letter to Prepare the Pontiff
On September 3, José Daniel Ferrer García, general coordinator of the Patriotic Union of Cuba (UNPACU), penned an open letter to the pope. It tells Francis that he will find a Cuba mired in poverty, but especially that he will encounter a country that lacks the "precious gift of freedom."
"You will understand us, since you have lived under the military dictatorship, with its persecution, imprisonment, and disappearances for political reasons."
The Cuban opposition leader comes across as an optimist, as he states that Cubans are changing and are now overcoming the fear of repression.
"Due to your moral stature, you can intercede and advocate for the rights of the oppressed, which in Cuba amount to the vast majority. You can plead for the release of over 50 political prisoners who are currently surviving under inhumane conditions in Cuban jails."
In addition, Ferrer believes Pope Francis can help members of the Cuban government understand that they cannot continue beating and arbitrarily detaining dozens of peaceful women every week just because they think differently.
"On behalf of those who will spend their days in dark dungeons during your historic visit, we give you the warmest welcome," Ferrer concludes.