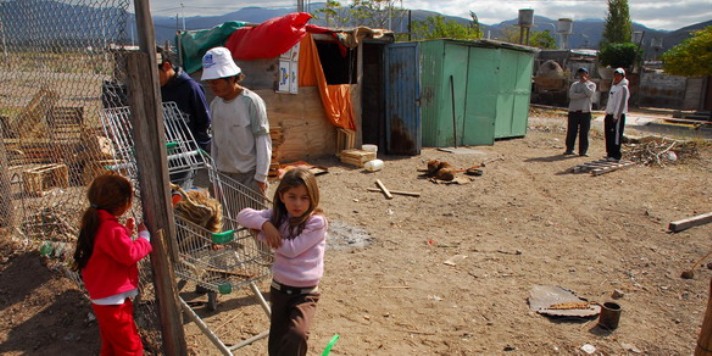 EspañolControversy over the true extent of poverty in Argentina has emerged following the death by malnutrition of Óscar Sánchez, a 14-year-old boy who weighed just 11 kilos and suffered from tuberculosis, pneumonia, and meningitis.
According to the Catholic University of Argentina's Social Observatory, over 28 percent of Argentineans live below the poverty line, in stark contrast to President Cristina Kirchner's claim that "Argentina has lower poverty levels than Norway."
Death of Óscar Sánchez
Óscar Sánchez, a member of the Qom indigenous tribe, died on Tuesday, September 8, at a children's hospital in Chaco, one of the poorest provinces in Argentina.
Sánchez's parents arrived at the capital, Resistencia, after a long journey in search of care for their son. The parents claim Óscar did not receive proper treatment at the small state-run clinic in Fortín Lavalle, a rural town of 687 inhabitants.
After going to two other government-run hospitals, Óscar finally ended up at Martín Miguel de Güemes Hospital in Resistencia on September 2.
[adrotate group="7″]
"On top of the unjust and avoidable death, caused by the Chaco province's dehumanizing and disorganized public-health system, this adds to similar cases that took place this year," local watchdog group Mandela Center for Studies and Social Research said in a statement. In January, Néstor Femenía, another Qom boy, died from malnutrition at age seven.
The Mandela Center says that while Sánchez was gravely ill, he received little to no medical attention over the last year, aggravating his condition.
NB: viewer discretion is advised.
Cabinet Chief Jorge Capitanich, who was the governor of Chaco from 2007 to 2013, says Sánchez's death can be attributed to "cultural issues," although he acknowledged that it could have been prevented.
Both government and indigenous physicians agree with the governor. "They had been feeding him milk for a month, and then took him to a healer," Ricardo Chunga, director of a nearby hospital, told La Nación.
The boy's father, however, refused to talk to the press. "You should have come two years ago," he told a reporter from La Nación. "Now it's too late. I won't speak."
In 2014, Capitanich assured the public that Argentina had "practically eradicated poverty." A few days later, however, he backpedaled from his comments and clarified that he was merely talking about "starvation and extreme poverty."
Two People Die of Starvation Everyday
According to a Health Ministry report from 2013, deaths from malnutrition-related complications occur once every 10 hours in Argentina, a country once known as the "granary of the world."
The report shows that 70 percent of the 891 people who died from malnutrition in 2013 were 75 years of age or older, while only 8 percent were under the age of 18. Ten years earlier, in 2003, the rate was two-fold, with one death occurring every five hours.
In their annual poverty survey, the Catholic University of Argentina's Social Observatory points out that two out of 10 Argentinean children are not properly fed. Furthermore, half of these children suffer from "severe food insecurity," a situation occurring primarily in low-income households in small villages.
The researchers estimate that the average Argentinean family needs at least AR$5,717 (US$380) to meet basic needs — double the amount estimated by the National Institute of Statistics and Censuses (Indec).
Earlier this year, the UN Food and Agriculture Organization declared Argentina a "hunger-free" country, with poverty levels "below 5 percent, and 1 percent in severe poverty." The UN agency sparked controversy both in Argentina and Venezuela, which the organization also recognized for its low poverty levels.
"To hide 10 million poor people by concealing official statistics is a form of institutional violence," Pablo Gallo, chair of the Center for the Research of Economic and Social Participative Public Policy, told Argentinean radio Cadena 3. 
The Reality in Chaco
According to government statistics, Chaco residents enjoy a 0 percent unemployment rate. A report from mid-August claims that every Chaqueño who wants to work has a job, that the poverty rate stands at a mere 8.4 percent, and that only 1.4 percent live in severe poverty.
However, private studies have shown otherwise. According to the Institute for Economic, Social, and Public Policy Research, 49.6 percent of residents in the capital, Resistencia, live in poverty, and the severe poverty rate stands at 13.4 percent.
Last year, journalist and host of the Argentinean television news program Journalism for All, Jorge Lanata, released an in-depth report detailing the extent of poverty in Chaco.
Furthermore, civil-society groups claim corruption within Governor Capitanich's administration exacerbated the problem. In July, members of the group Vamos Chaco made a public demand for Capitanich to answer for the AR$500 million (US$32 million) in public funds that went missing under his watch.
"He turned official events into party meetings, and made a mockery out of the legislature," said Alicia Terada, a member of Vamos Chaco.