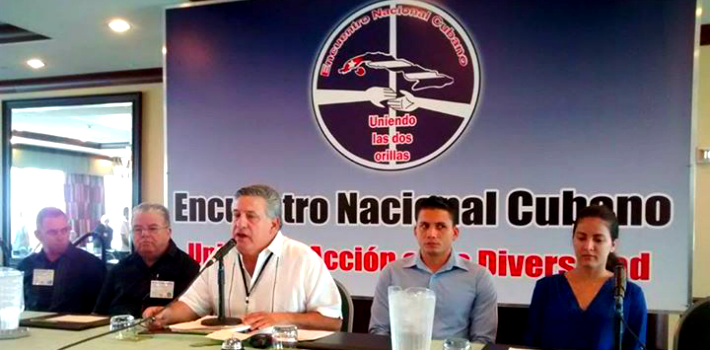 EspañolFollowing the opening of the US embassy in Havana, Cuban dissidents both on and off the island gathered to discuss what's next for the democratic opposition.
On Thursday, August 13, the United Cubans of Puerto Rico hosted the first National Cuban Meeting, "Uniting Two Shores," in San Juan, Puerto Rico. More than 200 dissidents from 23 organizations based in Cuba, and 32 abroad, attended the two-day affair.
In the end, the workshop's participants agreed to push forth a binding plebiscite to bring free, fair, and plural elections to the island.
During the meeting, organizers randomly appointed participants to different working tables, and each table then chose a representative to share strategies on how to effectively restore individual rights and democracy in Cuba.
Attendees agreed unanimously that to ensure freedom for the Cuban people, and the rule of law, certain basic principles would not be negotiable: freedom for political prisoners; the repeal of all legislation that restricts freedom of speech, association, assembly, and religion; and the legalization of all political parties to allow free and multi-party elections.
Once they reached common ground, coordinators agreed to begin work on a non-violent campaign to demand the plebiscite, and to "educate and train pro-democracy leaders in civil-disobedience tactics."
They also agreed to work toward ending internet restrictions in Cuba, and to find a way to provide dissidents on the island with the technological tools necessary to organize and disseminate the action plan. Furthermore, participants appointed a commission to monitor these goals and publish a progress report within six months.
Orlando Luis Pardo Lazo, a member of Cuba Decides, told the PanAm Post that his organization's recommendation for a plebiscite ended up being one of the principal proposals to come out of the meeting.
"We want a new framework in which the government dares, for the first time, to ask the public a question of order. The questions for the plebiscite have not yet been decided, but they could be: 'Raul Castro, yes or no?' or 'communists, yes or no?'" Pardo Lazo said.
[adrotate group="8″]
The activist says that the Cuban Constitution forces citizens to be ruled by only one party, "whether you are a socialist, social democrat, or a liberal."
"The only way out of this is an armed uprising or a plebiscite, to consult with the people. We all agreed that we favor the non-violent means," he added.
Pardo Lazo says they want "the government to legitimize itself by asking the people what they want."
"The plebiscite is a referendum for liberty. We have the right to a legal referendum, with the world watching," he said.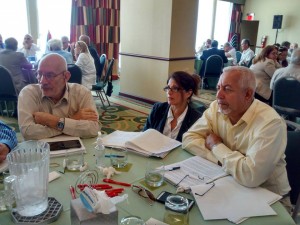 Constitution of Discord
The Cuban Constitution was last reformed in 2002. At the time, Article 3 of Chapter 1 established socialism on the island as "irrevocable."
"Socialism and the social revolutionary political system instituted in this Constitution, proven by years of heroic resistance against all kinds of aggression and the economic war engaged by the government of the mightiest imperialistic power that has ever existed, and having demonstrated its ability to transform the country and create an entirely new and just society, shall be irrevocable, and Cuba shall never return to capitalism."
Moreover, Article 137 of Chapter 15 further stipulates that reforms cannot be made to the "political, social and economic system, whose irrevocable character is established in Article 3 of Chapter 1."