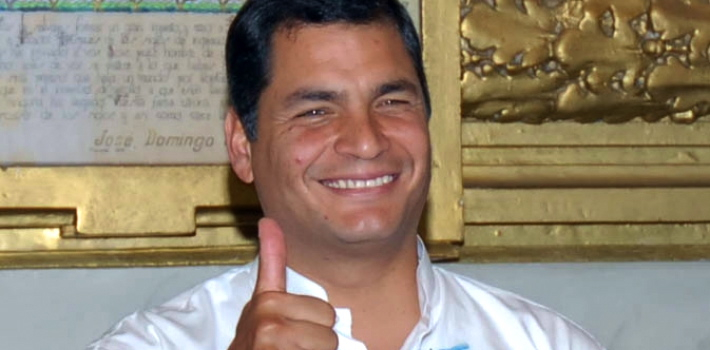 EspañolWhen Ecuadorian psychiatrist and columnist Miguel Palacios Frugone published articles that criticized President Rafael Correa, he likely never imagined the price he would have to pay. A judge has ruled, as of July 23, that Palacios must compensate Correa with US$46,000 for alleged "moral damage."
Palacios originally filed a 2010 lawsuit against the president for calling him a "rapist" on his weekly Citizen Link TV show. But Correa countersued Palacios over the publication of 20 articles at the website From My Trench.
Despite the fact that Correa's accusation appeared on national television, Judge Wilson Andino dismissed Palacios complaint over "lack of evidence." However, on July 1, 2015, he admitted Correa's claims and awarded him compensation of US$20,000 for two articles deemed "offensive," plus US$6,000 to cover the Ecuadorian head of state's legal costs. The physician said he would appeal the decision.
Hasta violador de niños le dijo Correa al Dr.Miguel Palacios Frugone y ahora es a él–a Correa-a quien hay que indemnizar?Justicia correísta.

— Carlos Vera (@CarlosVerareal) July 23, 2015

"Correa even accused Dr. Miguel Palacios Frugone of being a child rapist, and yet it's him — Correa — who has to be compensated. Correísta justice."
The controversial articles, titled "The Mad Bigwig" and "My Reasons," were published in August and October of 2008, respectively. In one, Palacio wrote that the president "has a complex and abuses women. He does that because either he hates them or he wants to be one of them and he can't."
Correa's legal team also wanted Palacio fined for describing the president as "arrogant, vain, egotistical, authoritarian, dictator, [and a] tyrant." The judge agreed.
On November 29, 2008, on Citizen Link, Correa upped the ante by saying that Palacios was a "mafiosi, rich from Urdesa (an affluent region in Guayaquil), a rapist, a scoundrel of the Social-Christian Party, deceitful, a thief, and a tax evader."
Unimpressed, Palacios responded to Correa with a column in January 2009.
"I remind you that you are my employee. You work for me, because I'm your superior, and I don't pay you a salary so you can insult everyone who disagrees with you. Because of this, I demand that you make a public apology. If you don't want to do it, at least be a man and tell me your lies to my face."
He also said that after checking with all the courts in the country, he didn't find any allegations of rape against him.
"Unfortunately, the only voice I hear is my conscience, and to shut me up you will have to kill me," he challenged the president. "I also ask you not to wiretap my phone, nor send me the Internal Revenue Service (SRI) disguised as patients to see if I will give them invoices … You are wasting your time."
Palacios, who is a specialist in neurophysiology, sued the president for slandering his name and honor, causing him "uncountable damage and psychiatric suffering, due to the impact of those declarations on the people of Guayaquil and the whole country."
Correa dismissed the complaint filed by Palacios, saying that it lacked legal or moral grounds to succeed.
Judge Andino, who convicted Palacios, said the right to free speech is subjected to personal accountability, "because expressions with no accountability may lead to statements that exceed the rights to free speech, harming the rights of other people."
Correa's lawyers appealed the ruling, arguing that the sentence was not enough, and that Palacios should be convicted for the 20 articles that they presented as evidence to prove the moral damage.
More of the Same under Correa
The Ecuadorian NGO Fundamedios, which tracks attacks on free speech, has reported several recent cases of censorship and restricted speech. Among them, they have highlighted the forcing of Ecuadorian daily El Comercio to publish a response op-ed from Communications Minister Fernando Alvarado and physical and verbal aggression against journalists such as Christian Zurita.
César Ricuarte, head of Fundamedios, said the Zurita case was serious: "the attackers acted with premeditation, in broad daylight, while police officers were allegedly guarding the Plaza Grande in Quito."
"We wouldn't like to add this attack to the long history of aggression against the press in Ecuador, where authorities do nothing and create an environment of absolute impunity to attack the press."