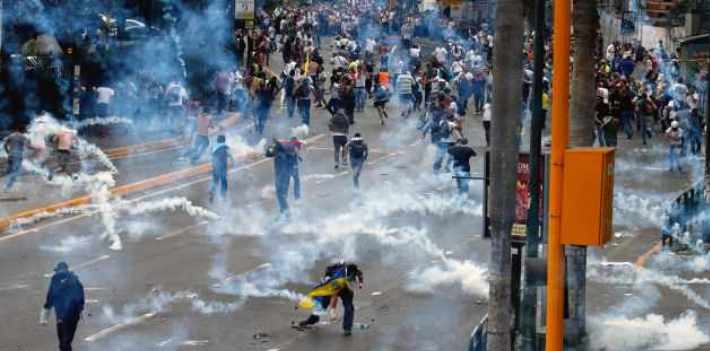 EspañolDissidents in Venezuela face trying times, to say the least; but they are not afraid to rise against a government-backed media hegemony, because they wield truth as their powerful weapon of choice.
Carlos Javier Arencibia is a 23-year-old journalist who has recently published a courageous book, Testimonies of Repression by editorial house Libros Marcados. He's also a member of perhaps the most socialist of political parties among the Venezuelan opposition, the Red Flag Party.
Based on accounts of students that took part in the early 2014 anti-government protests that swept the country, Arencibia details the regime's tortures and ill-treatments.
The book features a prologue by an opposition leader from the other side of the spectrum, liberal María Corina Machado, demonstrating the author's willingness to showcase the diversity of Venezuelan dissidents.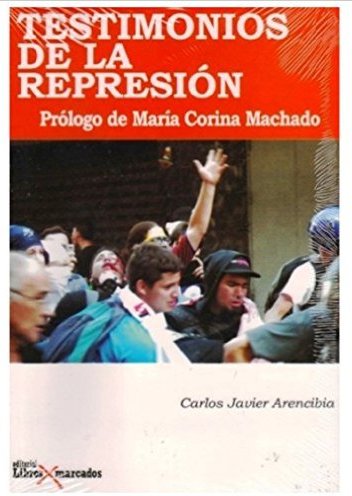 "These chronicles are accounts of the democratic rebelliousness that has emerged in Venezuela since February 2, 2014 … It's a social movement that has waged a historic fight against authoritarianism and in favor of democracy for all Venezuelans," writes Machado, whom the Chavista-controlled Congress stripped a seat as legislator in 2014, for daring to speak out about the plight of student protesters.
Arencibia points out that three different political and economic proposals — liberalism, such as embodied by Machado; the social-democracy of Leopoldo López, who was arrested for initiating the protests; and communism of the Red Flag Party — have teamed up for one cause: "To fight against the Venezuelan dictatorship and work towards a just, democratic, and popular welfare society."
The first to tell his story in the book is also the first victim tortured during the protests, Juan Manuel Carrasco. The Venezuelan student reported before the European Union that a National Guard sexually assaulted him with the barrel of a rifle on February 13, 2014, an incident that Attorney General Luisa Ortega Díaz vehemently denied.
The young party leader's book ends with the story of how, on February 24, 2015, Bolivarian National Police officers gunned down at close range 14-year-old Kluiverth Roa. The boy was not even participating in the protests in San Cristóbal — he was defending another young protester from police brutality.
The book recalls that Venezuelan President Nicolás Maduro, adding insult to injury, claimed that Roa "belonged to a secret sect created by the CIA." What sect? The local boy scouts? "President, cut the bullshit," replied the grieving father, a photojournalist.
Testimonies of Repression portrays several other instances of abuse by government officials: the beating of Marvinia Jiménez, a young woman, by a National Guard officer, who has since been detained and released; Clider Martínez, a student camping outside the UN offices in Caracas, whom the police arrested and threw into Rodeo III, one of the country's most dangerous prisons; and the prosecution of student-leader Sairam Rivas, whose only sin was to defeat Chavismo in the elections for student-body council at one of its strongholds, the School of Social Work in the Central University of Venezuela.
Arancibia provides a detailed overview of the 49 victims who died during the protests. More important, he tells how they died, so the reader can contest the Maduro administration's official story, which somehow places the deaths on the shoulders of Leopoldo López, who has been a political prisoner for over 18 months now.
Testimonies of Repression also notes, perhaps unintentionally, the divisiveness within Venezuela's opposition camp. According to Arancibia, there are more radical leaders, such as Machado, López, and the imprisoned mayor of Caracas, Antonio Ledezma; then there is a less combative faction represented by former presidential candidate Henrique Capriles and secretary of the Democratic Unity Roundtable (MUD) Jesús "Chúo" Torrealba. He nevertheless stresses that dissidents should not negotiate or grant any concessions to Maduro's regime.
A straightforward and concise depiction of Venezuela's current crisis, the book paints a painful reality for those of us who are old enough to be parents of the tortured and murdered students.
In a country with youth leaving en masse, and in which despair suffocates up all hope, it is moving to see a group of young men and women who have lived all or most of their lives under Chavismo fight to restore democracy. The abuse and mistreatment remind us that the institutions that should defend citizens have instead become part of a regime machinery, focused on the physical and psychological submission of Venezuelans.
In nations that have experienced similar authoritarian regimes, such as Argentina or Chile, justice has not caught up with the perpetrators of violence even after 30 or 40 years. Many of those who remain in power through force will have to look themselves in the mirror, and rightfully fear Carlos Javier Arencibia's book; because if there's something that these young students have on their side, it is time.